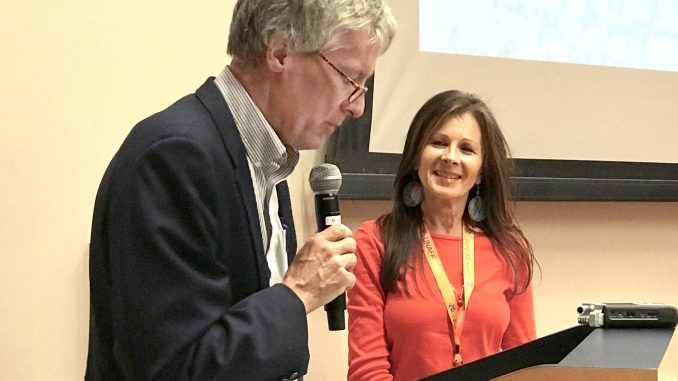 BY SARA TABIN
Daily Post Staff Writer
More than 100 people cheered last night (Oct. 17) as a group of filmmakers from around the world, who have gathered in Palo Alto for the 22nd United Nations Association Film Festival, spoke about their films, which document topics ranging from a music program in prison to a Chinese activist-artist.
Attendees at the Mitchell Park Community Center watched an eight-minute documentary about voting rights in South Carolina in the 1950s, and asked questions about voting rights in the United States today.
The festival kicked off with a speech from Mayor Eric Filseth.
"The (point of the) festival is to assemble and celebrate great documentaries that… may inspire us to update our view of the world," said Filseth, who also proclaimed the festival dates as United Nations Association Film Festival days.
He said that facts are under attack and that technology, including technology developed in Palo Alto, has played a role in both helping people access information and in spreading lies. Filseth said the festival, the theme of which is Scales of Justice, will help people learn about what is happening in different parts of the world.
"Before reality was virtual, when intelligence was not artificial… before Cisco and Intel… this geography was already a nexus of independent thinking … and pursuit of enlightenment," said Filseth.
Jasmina Bojic, a Stanford film professor who founded the festival and runs it, said the festival's theme was selected because truth is essential for justice.
Rebecca Scholl, of Palo Alto, said she has been going to the festival for the past five years. Scholl said the films have made her aware of issues she did not know existed. She praised the festival for having lots of different perspectives and for having some child-friendly films that she can watch with her kids.
Lucie Phenix — whose short film about voting rights, "They Say I'm Your Teacher," was played yesterday — said Bojic does a good job of finding interesting social justice documentaries from around the world. She said Bojic is trying to educate the Stanford and Palo Alto communities.
The festival runs through Oct. 27. For more information on the festival, go to http://www.unaff.org/2019/films.html. Films will be screened at the Mitchell Park Community Center in Palo Alto, at Stanford and in East Palo Alto. General admission is $12 for a group of films that runs between 90 minutes and three hours, but the movies are free for students with an ID.
Tonight's (Oct. 18) selection includes documentaries about civil rights activist and former attorney general Ramsey Clark, the New Zealand Christchurch shooting and life in Iraq.