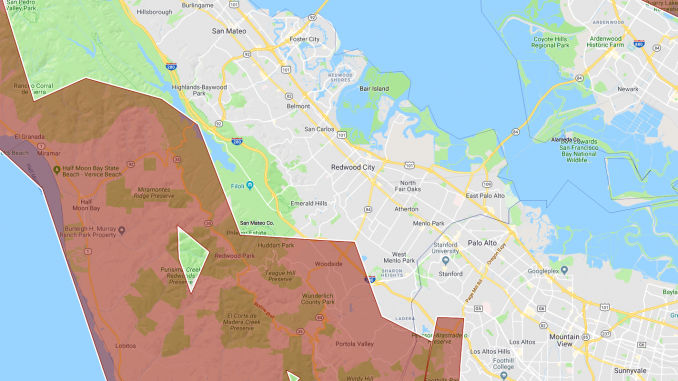 Update, 12:15 a.m., Thursday — Power has been cut to Woodside and Portola Valley, and possibly other areas west of Interstate 280.
Update, 10:37 p.m., Wednesday — PG&E officials said they have initiated the power shutoff in the South Bay, East Bay and Santa Cruz area. As of 10:37 p.m., the shutoffs for those areas had begun and will continue through midnight, PG&E spokesperson Karly Hernandez said.
Update, 9 p.m., Wednesday — The pre-emptive power outages that were supposed to begin at 8 tonight didn't happen, and it's unclear when they would begin. PG&E said it planned to turn off the power west of Interstate 280 because officials were concerned that high winds would knock down power lines and start a wildfire. Contra Costa County officials said on twitter that the blackout there should begin at 10 p.m. No word on when it would start in Santa Clara or San Mateo counties.
This would be the second phase of the outage. The first phase began at midnight Tuesday and affected about 500,000 customers in the North Bay and in a separate portion of the Sierra foothills.
Sumeet Singh, a PG&E vice president, said the winds and low humidity prompting the outages is expected to subside around noon Thursday. Inspections could begin then on the utility's transmission and distribution lines and equipment. Once inspections start, "It could be several days to restore power," Singh said.
The utility has 45 helicopter crews that are ready to do inspections and 6,300 qualified personnel on the ground, according to Singh.
While Palo Alto operates its own electric utility, the city gets its power from PG&E's transmission lines. So if PG&E shuts down a transmission line, Palo Alto would have to cut service to customers. At this point, the only outages in Palo Alto are expected to occur west of Interstate 250.
Update, 2:33 p.m., Wednesday — PG&E has postponed the power outages until 8 p.m. tonight (Oct. 9). The outages, which are expected west of Interstate 280 in San Mateo and Santa Clara counties, will last until noon Thursday, authorities said. The blackout was delayed because forecasters are now saying that the strong winds are not expected to begin until 10 p.m.
The public is becoming frustrated by the situation. This morning, somebody in a pickup truck shot out the window of a PG&E truck on Interstate 5 north of Maxwell in Colusa County, the CHP said. This afternoon, PG&E set up a barricade outside its headquarters on Beale Street in San Francisco. Company spokeswoman Ari Vanrenen told the Chronicle that the barricade is a precaution for "the safety of our employees." She added, "We have received feedback from frustrated customers."
Update, 10 a.m., Wednesday — At noon today (Oct. 9), PG&E plans to pre-emptively shut off electric power to thousands of residents west of Interstate 280. The utility is concerned that expected high winds might knock transmission lines down and ignite fires.
Locations east of 280, including the cities of Palo Alto, Mountain View, Menlo Park, Redwood City, San Carlos and Belmont, will continue to receive electricity.
Even though it was PG&E who decided to shut off the power, it will affect customers of the city of Palo Alto's electrical utility who live in the hills.
The outage will hit Woodside, Portola Valley, Ladera, LaHonda and other communities west of 280.
PG&E said the outage could last up to six days. The company says it needs to check all lines before re-energizing them.
1:58 p.m., Tuesday — More than 250,000 Bay Area residents, including those in Palo Alto, are at risk of losing their power starting Wednesday (Oct. 9) when PG&E plans to pre-emptively shut down power due to dry and windy weather conditions.
The outages could happen in Palo Alto because, while the city operates its own electric utility, the power comes in on PG&E transmission lines that might be shut off.
This map that shows potential outage locations. For Mid-Peninsula residents, the map shows that the potential outages are only expected to happen west of Interstate 280.
The weather is expected to be dry and windy, which makes the risk of a catastrophic wildfire high, PG&E officials said. The utility company wants to shut off power so its electric equipment doesn't start a wildfire as has happened in the past two years.
"This is shaping up to be one of the most severe dry wind events we've seen in our territory in recent years," said Michael Lewis, senior vice president for PG&E's electric operations.
The shutoffs, called "Public Safety Power Shutoffs," may affect 256,996 PG&E customers in the Bay Area.
Oddly enough, no outages are planned in San Francisco or Sacramento.
If a shutoff is implemented, PG&E plans to begin turning off power early Wednesday morning, but the utility has not given an exact time.
Lewis said company officials want customers to be prepared for an outage that may last several days. Monday night, he called the situation involving the weather this week "evolving." Power may be off for several days because after the weather improves, lines and equipment need to be inspected before power is turned back on.
Wind plays an important role in the decision and PG&E says winds are expected to be at their peak early Wednesday morning through midday Thursday. PG&E has its own meteorological team that monitors the weather.
While it appears the outages will occur west of Interstate 280, PG&E this morning sent out a statement indicating that a far larger area could lose power.
PG&E said the San Mateo County communities and cities that could be affected include Half Moon Bay, El Granada, Woodside, Moss Beach, Montara, Portola Valley, Pescadero, La Honda, Redwood City, San Gregorio, Loma Mar, San Mateo, Menlo Park, Emerald Hills, Pacifica and Princeton.
In all, 14,766 San Mateo County customers may lose electricity.
PG&E said that in Santa Clara County, 38,123 residential and business customers could be without power, including those in San Jose, Morgan Hill, Cupertino, Los Gatos, Saratoga, Redwood Estates, Milpitas, Sunnyvale, Los Altos, Los Altos Hills, Coyote, Gilroy, Mount Hamilton, Palo Alto and Holy City.
The utility's customers may be affected even though they are living in an area that isn't affected by dangerous fire conditions because parts of the system that serve one area may originate in an area that is affected by extreme weather, PG&E officials said.
This map on the PG&E webpage shows potential locations of outages. If you have difficulty connecting, that's because PG&E's website has been down much of the day. The utility apologized on Twitter for the website problems. "We are currently experiencing high volume of traffic to our website & understand your frustration w/ the delay of accessing #PSPS related web pages," PG&E wrote. "We apologize for the convenience and thank you for your patience as our team is working as quickly as possible to restore access."
— From staff and wire reports