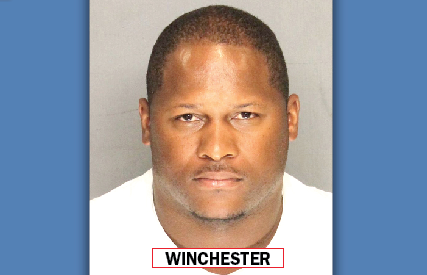 BY EMILY MIBACH
Daily Post Staff Writer
One of the alleged victims of former San Mateo police officer Noah Winchester became so emotional while testifying during the first day of his trial that Judge Lisa Novak called for a 10 minute recess to let the woman regain her composure.
Winchester, 34, is facing 15 counts of rape and sexual assault that occurred while he was on duty as a police officer for San Mateo and, before that, the Los Rios Community College District in Sacramento County.
The woman, a Sacramento resident, broke down in tears multiple times during her testimony on Wednesday (Sept. 18), saying that she was scared to testify because of the police officers in the courtroom, referring to the two uniformed bailiffs.
When prosecutor Alpana Samant showed the woman a photo of the bathroom that Winchester allegedly raped her in, she began weeping. Samant asked her if she was alright.
"No. But yes," the alleged victim said.
Judge Novak reminded the woman that she could ask for a break at any time, at which point the woman asked for a break.
Therapy dog in court
There to comfort the woman was Clover, the district attorney office's labrador retriever therapy dog. A few times during her testimony she looked down and pet the dog.
The woman, now 28, described to the jury the morning of July 2, 2013. At the time she was homeless and had a warrant out for her arrest for a January 2013 burglary. She was leaving her cosmetology school with her three children when Winchester shone his flashlight into the elevator she was standing in with her children.
Winchester allegedly told the woman that he knew of a place she and her children could sleep — as long as she had no warrants. He ran her name and saw that there was a warrant out for her arrest, but told her to walk with her children about a half mile away to a building. Winchester also patted the woman down, but the woman told the court that it was more like he groped her, she said.
She said she felt as if she had no choice but to follow Winchester's instructions. So she said she walked into the building but soon asked him to let her go.
Winchester asked the woman what she could do for him, she testified.
"I was thinking that I would rather sleep outside with my kids than go inside with someone who was supposed to protect me," the woman said.
The woman said she offered Winchester the $25 she had in her pocket, but he told her he didn't want the money and that they would talk more when she went inside.
The woman said she was in fear for her and her children's lives, so she went into the building.
She says he told her to take off her clothes
Winchester made her leave the children near a couch, and then took her around the corner into the women's bathroom, where he told her to take off her clothes and get into a position like inmates at a jail do for a strip search, she said.
After Winchester looked at her naked body, he told her to perform an intimate act on him, and then raped her, she told the jury.
Winchester then told the woman not to trip the security cameras in the building, or else he could then arrest her for breaking and entering, she said.
Eventually, he let her go, without arresting her.
Feared losing her children
Prosecutor Samant asked the woman why she went with Winchester instead of just getting arrested. She replied that she was scared of being arrested because that could have meant losing her children.
"He could have arrested me, but instead he raped me in a dark room."
Through Samant's questioning of others, it was revealed that the building Winchester took the woman to was an annex for the Los Rios Community College District, which contained the offices of the college district's police department, Winchester's employer.
Winchester's task the morning of July 2, 2013, was to keep an eye on the building because the district's security system was on the fritz, according to Los Rios Sgt. Benjamin Murphy, who also testified Wednesday.
The security system at the annex was tripped twice during the time frame Winchester is accused of being with the woman, according to the testimony of Los Rios Capt. John McPeak. Winchester said both times that they were accidental alarms and that he had activated the alarms by accident.
Allegations date back to 2013
Wednesday was the first day of jury trial for the former cop, who is accused of sexually assaulting women when he worked for the Los Rios district and later for the San Mateo Police Department. He was arrested in July 2016 on charges dating back to 2013.
The allegations came to the attention of the San Mateo Police Department in October 2015 after a woman complained to Burlingame Police that Winchester had raped her during a traffic stop in the Coyote Point Recreation Area in San Mateo.
San Mateo police suspended Winchester at that time. But the case remained under wraps until it hit the news on May 12, 2016.
In July 2016, Winchester was arrested and charged with 22 felonies. If convicted, he could get a life sentence in prison.
Winchester was present in the Redwood City courtroom on Wednesday, wearing black square glasses, a black suit, blue shirt and black tie. His attorney Paul DeMeester said the women are making up their stories and that all of them have civil attorneys who plan to sue Winchester.
Winchester will take the stand
DeMeester announced that Winchester will testify and deny that he ever did anything to the women.
Tomorrow the prosecution will continue presenting its case and will call more witnesses to testify.