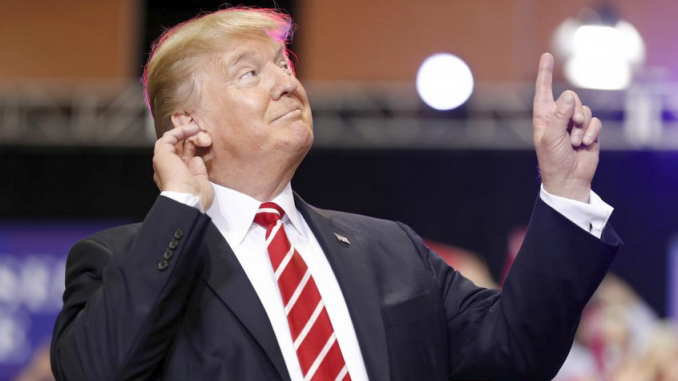 BY SARA TABIN
Daily Post Staff Writer
President Trump will not visit Atherton next week as previously believed, but he will still be making a trip to the Bay Area.
Trump is scheduled to come to the area on Tuesday (Sept. 17) for a fundraising event at an undisclosed location.
Politico reported two weeks ago that the fundraiser would be held in Atherton, but that has changed, according to Menlo Park Fire Chief Harold Schapelhouman.
Schapelhouman had started preliminary discussions about the event with Atherton Police Chief Steve McCulley when they were informed that the president would no longer be coming to Atherton, according to a report Schapelhouman wrote.
Harmeet Dhillon, the national committeewoman of the Republican National Committee for California, said she spoke to the White House yesterday (Sept. 13) and was certain that the fundraiser is not cancelled.
"I am planning to meet the president Tuesday here in the Bay Area," she said.
The event may have changed venues, said Dhillon, but she would not provide any specifics about the location. "Criminal elements" in the area might try to disrupt the event if an address is released, she said.
Protests have been planned for Tuesday. Activist group Backbone Campaign was even raising funds so it could fly a giant balloon depicting Trump in a diaper over Atherton, according to SFGate.
The event is a luncheon, according to a post on Dhillon's Facebook page, and tickets start at $1,000.
This is the second visit Trump has made to the mid-Peninsula for a fundraiser.
In August 2016, Trump went to a mystery location (believed to be in Woodside) for a similar sort of fundraiser. Tickets for that event went for $25,000 each.
In June 2016, Intel CEO Brian Krzanich was going to hold a fundraiser for Trump in his Atherton home, but canceled the event amid criticism of the Republican candidate.
During the 2016 campaign, Trump made two public appearances in the Bay Area.
On April 29, 2016, he spoke at the state Republican Convention in Burlingame that may be remembered for his unusual entrance.
Protesters gathered in front of the Hyatt Regency in Burlingame in an attempt to stop him, so Trump simply stopped his motorcade on Highway 101 behind the hotel, hopped out of his SUV, climbed over a soundwall and entered the hotel through the service entrance, bypassing the demonstrators.
On June 2, 2016, Trump held a rally in downtown San Jose, and afterward his supporters were attacked by anti-Trump demonstrators.
Dhillon, who is an attorney in San Francisco, is representing the Trump supporters who were injured in the fighting, and claims San Jose police were told to stand down during the fighting.