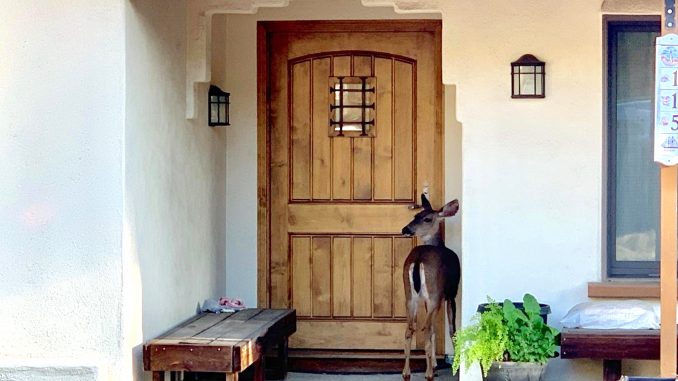 BY EMILY MIBACH AND SARA TABIN
Daily Post Staff Writers
It's fall when the deer come out of the hills and visit the suburbs, and as a result, animal control officers have been busy rescuing the animals from precarious situations.
They even encountered a confused deer in downtown Los Altos who turned out to be partially blind.
In Menlo Park, Peninsula Humane Society officers rescued a buck whose antlers were tangled up in some rope, spokeswoman Buffy Martin Tarbox said yesterday.
The deer was unable to move because the rope was also caught by a tree and a picnic table.
A property owner told officers that he had not been in the area since before Labor Day, so it is possible the deer had been there long before he was discovered on Sept. 3.
Officers used a blowpipe to inject the deer with a low dose of tranquilizer, Tarbox said. Once tranquilized, officers cut the deer free and after 15 minutes, he woke up and got a drink of water from the nearby creek.
Tarbox said the young buck likely would have died from lack of water and food if no one had noticed him tangled up.
On Wednesday, two Palo Alto Animal Control officers netted a partially blind deer in downtown Los Altos and took her to Palo Alto Foothills Park. Palo Alto Animal Control provides animal services to Los Altos.
Lead Animal Control Officer Cody Macartney said the department received their first call about the dim-sighted doe from a resident on Tuesday. They were hoping she would make it out of the city on her own overnight, but got another call about the same deer the next morning.
When the officers found the deer at the corner of Edith Avenue and North San Antonio Road they noticed that she was responding to sounds they made but did not look at them and was easier to approach than a deer normally should be.
They determined she likely had trouble seeing and decided that the safest option was to take her out of Los Altos and to a rural area where she wouldn't get hit by a car.
Macartney and Officer William Warrior caught the deer with a large net and a catch pole, which is generally used to catch dogs. They drove her in their truck to Foothills Park.
While the park is only open to Palo Alto residents, apparently an exception was made for this doe.
The deer might succumb to predators because of her visual problems, but will be safer in the hills than she would be wandering the streets, said Macartney. Humans will also be safer without a deer running blindly into traffic.