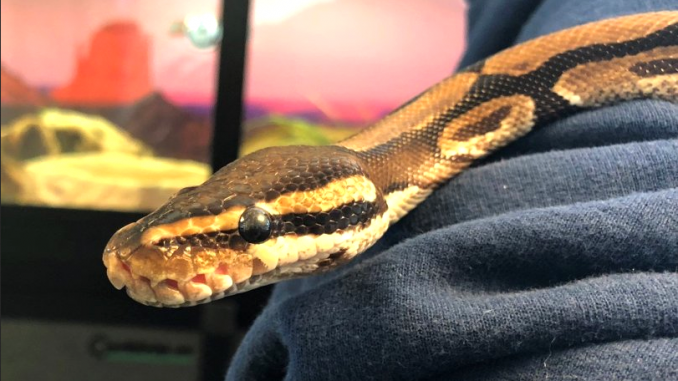 BY EMILY MIBACH
Daily Post Staff Writer
An unprecedented number of ball pythons have been surrendered to the Peninsula Humane Society, which is looking for people to adopt the snakes.
In the past year, the shelter has received 10 in all, according to spokeswoman Buffy Martin Tarbox. Five are currently up for adoption.
Most of these snakes have been turned into the shelter "through no fault of their own," by previous owners, Tarbox said.
Typically when the shelter sees an unusual quantity of a type of animal, it's because of a pop culture phenomena. In 2012, for instance, the shelter was deluged with chihuahuas following the Taco Bell commercials and the movie "Beverly Hills Chihuahuas." People adopted the dogs and then gave them up when the craze ended.
A desire for wolf-like dogs
In 2017, the shelter also saw an increase in huskies because of wolves in the HBO show "Game of Thrones," which prompted people to want wolf-like dogs.
But for this case, Tarbox said the shelter is not aware of anything in pop culture that would lead to the increase in ball pythons.
The CW series "Riverdale" has a gang in it called the "Southside Serpents" — however snakes don't really appear in the show.
Tarbox said that ball pythons make ideal pets because they are friendly and tend to be smaller in size. On average the snakes are about two to three feet long when fully grown. They can live to be 30 years old, said Tarbox.
Shy snakes
Ball pythons received their name for their shy demeanor and curling up into balls when frightened. They are a popular breed of snake for people to have because of their docile nature.
If you're interested in adopting one of these snakes, but don't want to feed it live mice, don't worry. Tarbox says that the SPCA encourages people to feed the snakes frozen, defrosted mice or rats, which can be bought at most pet supply stores.
Those interested in adopting one of the five ball pythons can visit the animal shelter at 1450 Rollins Road in Burlingame or call (650) 340-7022. The adoption fees vary depending on the snake.