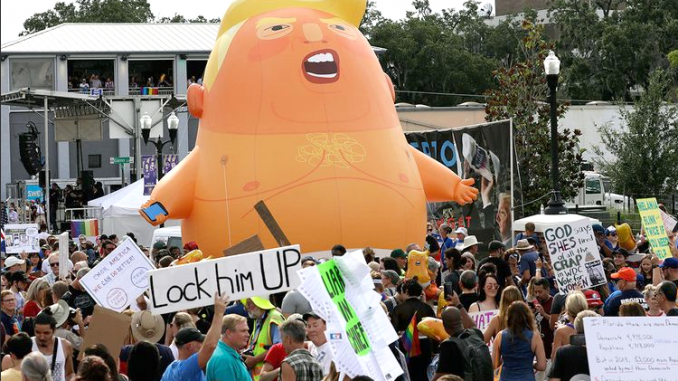 President Trump is scheduled to arrive on Air Force One at Moffett Field at 11 a.m. today (Sept. 17) and then he will travel to an undisclosed location for a fund-raising luncheon.
Not even the donors who bought tickets ranging up to $100,000 know where it will take place. Instead, they've been told to go to places where shuttles will take them to the luncheon.
The secrecy is necessary because of the threat of violence from protesters, said Harmeet Dhillon, a San Francisco attorney and California's Republican National committeewoman. After a Trump rally in San Jose in 2016, his supporters were attacked outside the San Jose Convention Center.
But she said demand for tickets has exceeded the supply, and she's had to turn many people away.
"By showing up to a fundraiser deep in the belly of the beast, one is saying: 'I don't care what the liberal politicians are saying and I want to show my support for him publicly,'" said Dhillon.
Speculation about the location
Meanwhile, the media was speculating last night where today's luncheon would take place. Channel 7 reported that it would happen in Palo Alto but gave no specific location. Politico, a Washington, D.C., website, initially reported that it would occur at a Woodside home, but later deleted the location from its online story. Atherton was originally believed to be the town that would host today's luncheon, but those plans were scrubbed last week.
The Backbone Campaign, an anti-Trump group from Seattle, plans to float a large balloon that depicts Trump as a baby over the intersection of San Antonio Road and Foothill Expressway in Los Altos.
Wherever Trump goes today in the mid-Peninsula, he is almost certain to be met with jeering protests.
Trump has routinely mocked California over its liberal culture, policies and politics. His visit to the state today and tomorrow signals that despite the state's decidedly leftward swing in recent years there are still plenty of wealthy Republicans who support him.
"There's not been a president in living history that is as unpopular in the state of California as Trump," said Mike Madrid, a GOP political consultant who is an outspoken Trump critic. "But our money spends the same as everyone else's."
Tops in fundraising
Trump continues to rake in gobs of cash more than a year out from the November 2020 contest, with his campaign and the Republican National Committee pulling in over $210 million since the start of 2019, Federal Election Commission records show. That's more than all the current Democrats seeking to replace him raised combined during that period.
The California events, which will be spread across two days in the Bay Area, Los Angeles and San Diego, are expected to bring in an additional $15 million.
California has long been a key fundraising hotbed for politicians of both parties, which have relied on the entertainment industry and wealthy tech industry heads to finance their political ambitions. But under Trump, the run-of-the-mill fundraising trip has taken on a complicating dimension due to his harsh criticism of everything from the state's immigration laws to its forest management practices, which he blamed for fatal wildfires.
Black list of Trump supporters
Earlier this month Trump lashed out at "Will and Grace" TV star Debra Messing after she tweeted that attendees of Trump's California fundraisers should be outed publicly, and that their names go onto a list that would be circulated in Hollywood so that nobody would hire them.
"I have not forgotten that when it was announced that I was going to do 'The Apprentice,' and when it then became a big hit, helping NBC's failed lineup greatly, @DebraMessing came up to me … and profusely thanked me, even calling me 'Sir.' How times have changed!" Trump tweeted.
In August, he took aim at the state's massive film industry, calling Hollywood "very dangerous for our country."
"Hollywood is really terrible. You talk about racist — Hollywood is racist," he said.
That's contributed to heightened security concerns surrounding the trip.
Homelessness
Trump has also complained about the extent of homelessness in California. Housing and Urban Development Secretary Ben Carson is expected to follow Trump to California, if one day behind him, on visits to San Francisco, Los Angeles and San Diego. A senior HUD official said Carson will speak on a range of issues, including increasing the supply of affordable housing and incentivizing investment in distressed communities while protecting vulnerable neighbors.
— From staff and wire reports