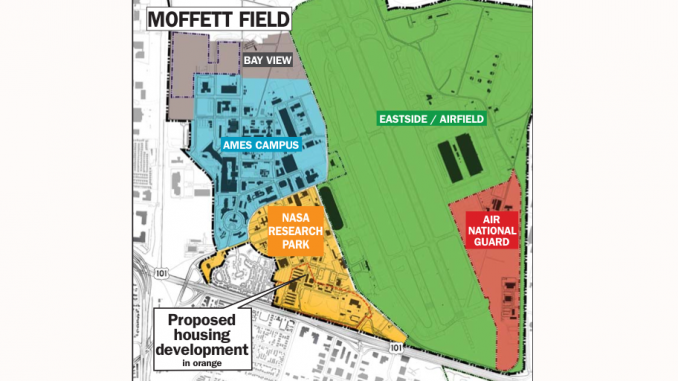 BY ALLISON LEVITSKY
Daily Post Staff Writer
More details emerged about NASA's plan to build 1,930 homes at Moffett Field yesterday (Oct. 18) when the federal government released a 53-page request for developers' bids to build the project.
The request for proposals, or RFP, envisions 4,900 people living on the 46-acre site at the south end of Moffett Field, east of the Wescoat Village family housing development, north of Highway 101 and west of Ellis Street.
A development of 4,900 people will need coffee shops and grocery stores nearby, so NASA is seeking a developer who will build 100,000 square feet of retail space on site.
Schools
The RFP doesn't address school impacts, but two new elementary schools are planned in Mountain View over the next few years. The Mountain View Whisman School District is set to break ground at Slater Elementary School at 220 N. Whisman Road in January. On Oct. 3, City Council gave the Los Altos School District permission to sell the development rights of an 8-acre site in the San Antonio area, northeast of El Camino Real, in order to afford to build a 10th school there.
The RFP also includes an 11-year timeline leading up to 2028, the planned end date for construction. The U.S. General Services Administration, which released the RFP on behalf of NASA, will be giving property tours to interested bidders starting Tuesday. Bids are due Feb. 9 with a $500,000 bid deposit. After the developer is chosen in the spring, a development agreement and lease of up to 60 years will be signed, and a $2 million security deposit handed over, next fall.
Superfund site
Moffett Field has been designated a Superfund site by the U.S. Environmental Protection Agency. Twenty-nine areas have been identified by the U.S. Navy as potential hazardous waste disposal or spill locations, and the RFP notes that the Navy is responsible for remediating any remaining environmental hazards.
Contaminants, such as solvents, polychlorinated biphenyls, oils, greases and fuels remain from four underground storage tanks. The tanks have been removed, but left gasoline, diesel and benzene in the groundwater and ethylbenzene, JP-5, motor oil, gasoline and lead in the soil.
A "large, solvent-contaminated groundwater plume" also migrated into NASA Ames from the Middlefield-Ellis-Whisman Superfund site, which is located south of Highway 101. The plume mixed with contamination released by the Navy at Moffett Field and contains volatile organic solvents, mainly TCE.
The developer will have to demolish 425,000 square feet of existing structures and make "substantial improvements" to the site, including work on Ellis Street and South Perimeter Road, extending Dailey Road and building a road that will serve as the housing project's northern border.
Affordable housing
The developer is asked to complete planned infrastructure improvements by the end of 2020 and begin construction of at least 300 homes on Jan. 1, 2021. The RFP requires that another 300 or more homes are built in 2023, but doesn't specify when the other 1,330 homes will be built.
At least 10% of the homes will be designated for residents who work or go to school on the Ames Campus and the NASA Ames Property and will be priced at rates that are affordable to low-income households, as defined by Santa Clara County.
NASA's policy that all new development and renovations will attain at least the "silver" standard of the Leadership in Energy and Environmental Design or LEED, established by the U.S. Green Building Council, will apply. Height limits on the development aren't specified in the RFP.
The RFP includes the requirement that the affordable homes are of the same quality and built of comparable materials as those used in the market-rate homes, and that each phase of construction include 10% affordable homes so they are dispersed throughout the development.
Planetary Ventures LLC, a subsidiary of Google' parent Alphabet, already has two long-term leases with NASA, one for the 1,000-acre Moffett Federal Airfield, including Hangar Nos. 1, 2 and 3 and the Golf Club at Moffett Field, located at 934 Macon Road.
Planetary Ventures also holds a long-term lease on 42 acres of undeveloped land in the Bay View area of Moffett Field, where Google is building 1.2 million square feet of office and mixed-use development.
The California Air National Guard 129th Rescue Wing occupies 111 acres at the airfield, with 7.3 acres at the development site on a temporary basis. The Na- tional Guard will have to move out for the development to move in.