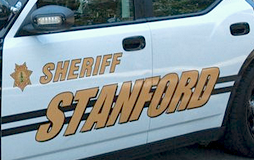 BY ALLISON LEVITSKY
Daily Post Staff Writer
A rape report that Stanford police mentioned in an Oct. 8 campus alert was not included in the public log at the police station, where state and federal law requires that all crimes and incidents it handles be listed publicly within two business days.
The Sept. 30 or Oct. 1 incident appeared on crimereports.com, a website that some law enforcement agencies contract with to post their police calls and activity, as having been reported on Oct. 9, records technician Lydia Morgan-Herman said.
The rape, which was reported to Deputy Crystal Townley, was excluded from the log in error, Morgan-Herman said.
Police spokesman Bill Larson told the Post on Tuesday that the department had no record of the incident when shown the case number.
The rape was reported on Oct. 4. It was said to have taken place on the 500 block of Mayfield Avenue in student housing between two people who knew each other.
The department doesn't directly input information into crimereports.com.
A spokesman for the Santa Clara County Sheriff's Office, which grants authority to Stanford's police department, said that crimereports.com gets the information from the sheriff's records department, but didn't explain how.
Some incidents in the public log at the station are not listed on crimereports.com, making the public log the only way to learn about much of the police department's activity.
The binder itself includes an inter-office memo announcing that state law and the Jeanne Clery Disclosure of Campus Security and Campus Crime Statistics Act requires the department to maintain a timely listing of all police incidents.
Other sexual assaults, including a rape in student housing on Oct. 8 and a forced oral copulation on Friday, were listed along with other crimes.