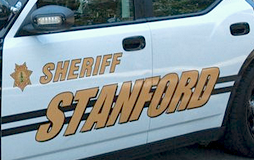 BY ALLISON LEVITSKY
Daily Post Staff Writer
A Stanford student walking on the path around Lake Lagunita early Thursday morning was grabbed from behind by a man she didn't know, according to campus police.
The student was near the Lakeside Dining Hall at 326 Santa Teresa St. when the man approached her from behind and grabbed her wrist and waist around 12:49 a.m.
She was able to pull away and notified police within a few minutes.
Deputies from the Stanford Department of Public Safety searched for the man, but didn't find him.
The man was described as white and between the ages of 20 and 30. He was about 6 foot with an average build, a clean shave, dark eyebrows and thin lips. He wore dark pants and a blue denim jacket with a hood over his head.
Deputies say the man is wanted for the crime of false imprisonment. Anyone with information about it has been asked to call them at (650) 723-9633.