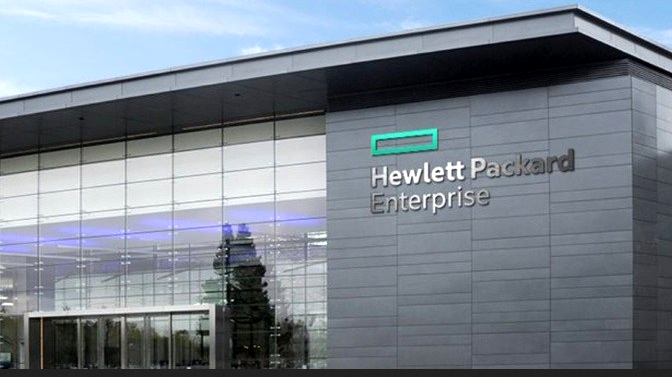 BY ALLISON LEVITSKY
Daily Post Staff Writer
A piece of the company that dominated Palo Alto for decades announced yesterday that it was leaving town. Hewlett Packard Enterprise, or HPE, announced yesterday (Nov. 2) that it's moving its headquarters from Palo Alto to Santa Clara by the end of next year.
The new headquarters will be a 230,000-square-foot campus at 3333 Scott Blvd., south of Highway 101.
Former Mayor Judy Kleinberg, now the president and CEO of Palo Alto's Chamber of Commerce, said the announcement was worrisome for the future of tech companies in Palo Alto. "I fear this is a harbinger of things to come in Palo Alto given the unfriendly business climate in our community," Kleinberg said in an email to the Post.
Other tech firms have left Palo Alto
HPE is not alone among tech companies that have left Palo Alto. Facebook founder Mark Zuckerberg announced in February 2011 that the social giant would move from Stanford Research Park to the abandoned Sun Microsystems headquarters at 1 Hacker Way in Menlo Park. Google moved from its office at 165 University Ave. to Mountain View in 1999.
Last year, SurveyMonkey moved from 101 Lytton Ave. to San Mateo after endorsing a letter from the Chamber of Commerce opposing Palo Alto's limits on office development.
"Big and small tech companies, like Survey Monkey and startup Branch, are choosing other Silicon Valley cities where their workforce is welcomed with enthusiasm, providing local jobs, supporting local retail and adding to city funds to benefit the residential quality of life," Kleinberg said. "On the other hand, it creates a new opportunity to locally house one of our businesses that's outgrowing our downtown."
The original startup
Many consider Hewlett Packard to be Palo Alto's original tech startup. Bill Hewlett and Dave Packard founded the company in a garage on Addison Avenue in 1939.
In 2014, CEO Meg Whitman announced that Hewlett Packard would split into two companies, HP Inc. and HPE. HP Inc. manufactures computers and printers, while HPE provides consulting, cloud computing and financial services to businesses.
HP Inc. will remain at its office at 1501 Page Mill Road.
"Over the past two years we've made tremendous progress toward becoming a simpler, nimbler and more focused company," Whitman said in a statement. "I'm excited to move our headquarters to an innovative new building that provides a next-generation digital experience for our employees, customers and partners."
Mayor Greg Scharff called the move "unfortunate" but said he thought the decision was based on the company's consolidation, not anything to do with the city.
"HP has a really long history in Palo Alto," Scharff said. "Obviously, HP's been a good corporate citizen and we're sorry to see them go."
Cost-cutting measure
Tech industry analyst Rob Enderle said he thought the move was a cost-cutting measure on the part of an underperforming HPE.
"That land is very, very costly," Enderle said. "There's only so much you can cut."
Sidebar 1: The old HP is now three companies
The original Hewlett-Packard is now three companies — Agilent, Hewlett Packard Enterprise and HP Inc. After the announcement yesterday (Nov. 2) that HP Enterprise is moving to Santa Clara, only HP Inc. will remain in Palo Alto.
HP was the original tech startup, beginning in a garage on Addison Avenue in 1939. The company became the biggest private employer in Palo Alto (Stanford's the biggest overall). The founders, affectionately known as Bill and Dave, died a generation ago — Hewlett in 2001 and Packard in 1996.
Here's what happened later:
• 1999 — HP spun off its electrical measurement instruments business as Agilent Technologies. Agilent is now based in Santa Clara, where HP Enterprise
is moving.
• 2002 — HP, with Carly Fiorina as CEO, acquired Compaq for $24 billion, a deal that went sour. Fiorina was ousted three years later.
• 2014 — HP, with Meg Whitman as CEO, announced it was splitting into two companies — HP Inc. and Hewlett Packard Enterprise (HPE). HP Inc. makes personal computers, printers and supplies. HPE is a business-to-business company focused on consulting, cloud computing and financial services. Its logo is a green rectangle while HP Inc. got to keep the italic HP in a blue circle, the old-school logo.
Sidebar 2: Many high-tech companies have left Palo Alto

HP Enterprise — one of the spinoffs of the original Hewlett-Packard in Palo Alto — is the latest tech firm to announce it is leaving the city. It is going to Santa Clara and joins a host of other heavyweights that have gone elsewhere.
• Facebook's Mark Zuckerberg started the social network in a Harvard dorm room, but the company came to Palo Alto in June 2004. First it operated out of several downtown locations such as 471 Emerson St. and 101 University Ave. Then it moved to 1601 S. California Ave. in the Stanford Research Park. In February 2011, Facebook announced it was moving to the abandoned Sun Microsystems headquarters at Willow Road and the Bayfront Expressway in Menlo Park. At the time, the official line was that Facebook needed more space, even though there were buildings in the research park nearby that were vacant. Speculation was that Facebook moved because employees didn't like parking restrictions that forced them to take a bus to work.
• Google was incorporated on Sept. 4, 1998, and operated in Palo Alto at 165 University Ave. In 1999, it moved to Mountain View.
• Intuit moved to Mountain View.
• PayPal is now in San Jose.
• SurveyMonkey was first at 285 Hamilton Ave. (across from City Hall), then the building at Lytton Avenue and Alma Street. The company famously
sent a letter to the city complaining about the city's office space cap and then moved to San Mateo.
• Waze started in 2007 at 240 Hamilton Ave. In 2013, it was bought by Google and was absorbed into the Mountain View Googleplex.