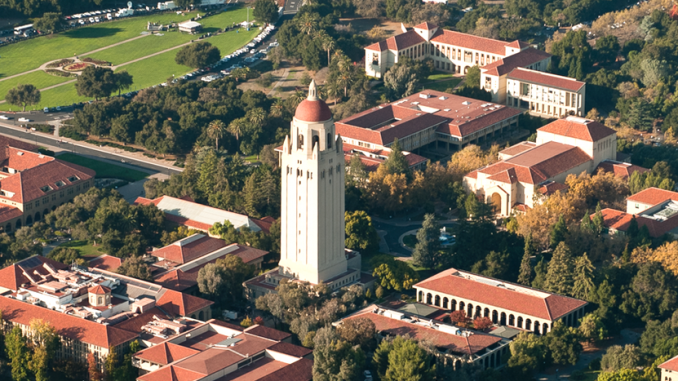 BY ALLISON LEVITSKY
Daily Post Staff Writer
A few dozen Palo Altans turned out to City Hall last night (Oct. 19) to give Santa Clara County Supervisor Joe Simitian an earful on Stanford's proposal to expand its academic facilities by almost 2.3 million square feet over the next 18 years, bringing about 9,600 new students, faculty and workers to the campus.
Because Stanford is in an unincorporated part of the county, it's up to the Board of Supervisors to accept or reject the prestigious university's 2018 general use permit, or GUP, application to build slightly more square footage than was permitted in its last permit in 2000.
A draft of the nearly 1,000-page environmental impact report was released on Oct. 6.
Palo Alto leaders and residents expect the school's growth to impact the city, already suffering from worsening traffic and expensive housing due to the city's housing-to-jobs imbalance.
"Stanford is not just a well-regarded university," said Tina Peak, a Stanford-educated veterinarian and Councilman Eric Filseth's wife. "It is a massive research and development conglomerate, a huge real estate investment and management corporation, an enormously oversized hospital and, lastly, a fairly middle-sized university with so much endowment money that they just can't spend it fast enough trying to overdevelop the area around their campus."
Filseth and some of his fellow anti-growth council members, Lydia Kou and Karen Holman, were also in attendance along with Planning and Transportation Commissioner Doria Summa, Palo Alto Unifi ed School District board member Melissa Baten Caswell and county Planning Commission Vice Chair Kathy Schmidt.
In the minority were residents in favor of Stanford's proposal, like Hal Mickelson.
"I'm one of the people who thinks that Stanford has been a good neighbor," Mickelson said, arguing that Stanford, unlike Palo Alto, had managed to provide enough housing to balance out its growth over the years.
The university plans to build 3,150 new on-campus housing units or dorm beds to house some of the students and employees who would come to the school if the GUP is approved, as well as 40,000 new square feet of childcare centers.
Many residents said that housing would be inadequate, especially when spouses and children are taken into account. Penny Ellson asked why Stanford wouldn't build more housing, considering its ample land.
Former Planning Commission member Arthur Keller suggested Stanford help pay for the Caltrain grade separation project to offset the impacts its development would have on Caltrain ridership and traffic. Under a grade separation, traffic would go over or under the train tracks.
Stanford also says it will stick to its 2000 commitment to not have any increase in car trips after the year 2001, which community members, including Mayor Greg Scharff, have publicly doubted.
"We don't believe there's not going to be any impact," Rita Vrhel said. Vrhel also encouraged Stanford to include funds for the Palo Alto Unified School District, which educates the children of Stanford students and employees.