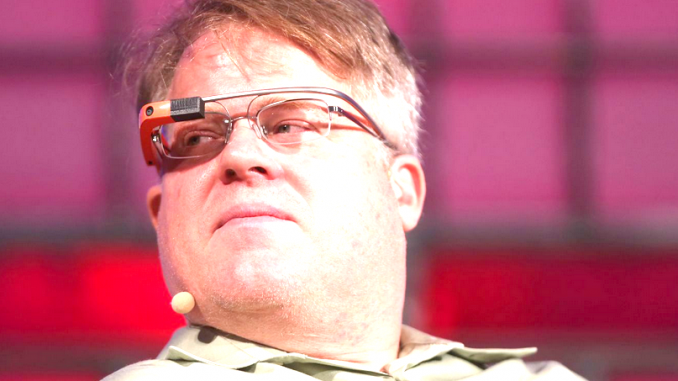 Above, tech blogger Robert Scoble wears Google Glass at a Dublin, Ireland, web summit on Oct. 31, 2013. AP photo.
A Daily Post staff report
In the wake of the Harvey Weinstein scandal, Silicon Valley pundit Robert Scoble has resigned from a tech consulting business following claims that he sexually harassed women in the tech industry.
In addition to exiting Transformation Group LLC, Scoble plans to cancel all public activities for the rest of the year while he attends AA and consults a psychiatrist to deal with his "deep and troubling personal issues," said his partner in the consulting firm, Shel Israel, in a Facebook post.
The revelations against Scoble began last week when journalist Quinn Norton, in a post on Medium, accused Scoble of groping her breast and grabbing her buttocks at the annual Foo Camp conference run by O'Reilly Media in the "early 2010s."
No warning
She said she saw Scoble drunkenly make out with an inebriated woman who was not his wife. "And then, without any more warning, Scoble was on me," Norton wrote. "I felt one hand on my breast and his arm reaching around and grabbing my butt. Scoble is considerably bigger than I am, and I realized quickly I wasn't going to be able to push him away.
"… I got a hand free and used a palm strike to the base of his chin to knock him back. It worked, he flew back and struggled to get his feet under him," Norton wrote.
After Norton's post, other women came forward including former co-worker Michelle Greer, who told BuzzFeed News that he inappropriately touched her at a hotel bar in 2010 while they were both employed at Rackspace.
Other valley cases
The Scoble case is the latest wave of sexual harassment charges to rock Silicon Valley. Over the summer, venture capitalists Dave McClure and Justin Caldbeck resigned.
McClure, who helped launch 500 Startups, quit after publicly apologizing in a blog post titled, "I'm a Creep. I'm Sorry." Caldbeck, the founder of investment firm Binary Capital, stepped down from his firm after an article on the site The Information reported that six women accused him of sexual harassment. His actions ranged from groping under the table to unwanted late-nite text messages. He publicly apologized.
The allegations about Scoble surfaced following reports in The New York Times and the New Yorker about multiple instances of casting couch sexual harassment and assaults by film mogul Harvey Weinstein. Weinstein is now the subject of seven criminal investigations.
An admission
While Weinstein is fighting the allegations, Scoble is taking a different tack.
"I did some things that are really, really hurtful to the women and I feel ashamed by that," Scoble told USA Today on Friday. "I have taken many steps to try to get better because I knew some of this was potentially going to come out."
Shel Israel, his partner in the consulting firm, said he was surprised by the revelations. "Yes, I have seen him drunk and stoned, but not recently. I never personally witnessed him behaving inappropriately toward women. If I did, I would have called him on it," Israel wrote.
But Israel said that Scoble told him the allegations are "for the most part true."
Promoted Microsoft
Scoble, a Half Moon Bay resident, rose to prominence as a technology evangelist for Microsoft from 2003 to 2006. He became a celebrity to some in the tech world for his blog known as Scobleizer. He also worked at Fast Company as a video blogger and Rackspace, where he promoted startups and new technology.
In addition to exiting his consulting partnership, the VR/AR Association, which is involved in the virtual reality and augmented reality revolution, yesterday removed him from its board of advisers. "Our organization does not condone harassment of any kind, and feel that this is the best course of action," the association said in a statement.