BY ALLISON LEVITSKY
Daily Post Staff Writer
One of the two inmates who escaped from the Palo Alto courthouse 16 days ago is back behind bars after a chase and shootout with the California Highway Patrol in Stockton yesterday (Nov. 21).
Tramel Leon McClough, 46, was arrested last night, authorities said.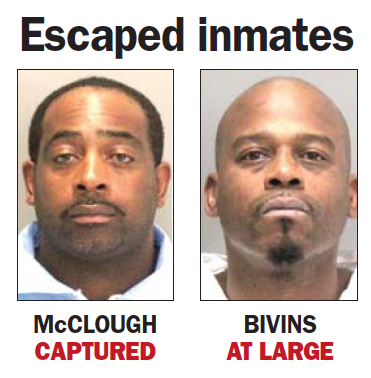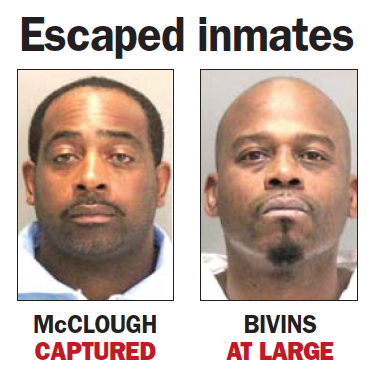 John Penn Bivins, 47, remains at large.
The two men are said to have led officers on a 2-mile chase from northbound I
nterstate 5 to a Walmart Supercenter in north Stockton after an officer tried to pull them over around 5:16 p.m.
McClough, who was driving the green 1999 Ford Explorer
with the license plate number 7TTY505, got out and ran into the Walmart. He was later arrested. A CHP officer shot at Bivins about a half-mile away. He fled north in the Explorer afterward. Authorities were still searching for him late last night.
Santa Clara County sheriff's officials tweeted at 11:31 p.m. that they would provide an update on the investigation this morning.
Bivins and McClough, both from East Palo Alto, escaped from the Palo Alto courthouse on Nov. 6 while being led into a court hearing for their armed robbery case from February.
McClough, a three-striker, faces a life sentence if convicted of the holdup at gunpoint of a Sunnyvale Verizon store. Bivins faces up to a 25-year sentence.
A handcuff key was found outside the courthouse the day of the escape. The two left in a waiting Toyota Camry, which they ditched a block or so from the courthouse for a U-Haul moving van.
On Nov. 7, McClough's longtime girlfriend Marquita Kirk, 44, of Sunnyvale, and Rene Hunt, 54, of East Palo Alto, were arrested for allegedly arranging for the two getaway vehicles.