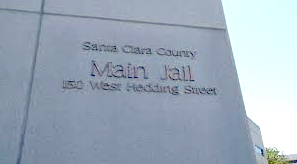 BY BRADEN CARTWRIGHT
Daily Post Staff Writer
Santa Clara Supervisor Joe Simitian is calling for new leadership of the sheriff's office and to uncloak legal documents and videos concerning a mentally ill inmate who was seriously injured while in jail custody.
Simitian is coming out hard against Sheriff Laurie Smith and her operation of the jails, which he says have been the scene of a series of tragic and costly incidents, without accountability or explanation.
He is calling for the release of a 19-page report written by county lawyers about the case of Andrew Hogan, a mentally ill man who suffered a brain injury while in custody in August of 2018. The county paid $10 million last year to settle the case but kept the report about the case confidential. Simitian watched 38 video and audio recordings from the case, which amount to over four hours of content, when he voted to settle. The report and videos are usually kept confidential in a civil suit, but Simitian said the public should see them so they can make an informed vote in next year's race for sheriff.
"I found the report and the video as disturbing as anything I have seen or read in my 30-year career as a public official," he said.
He is presenting seven other ideas to improve transparency to the Santa Clara County Board of Supervisors for a vote on Tuesday (Aug. 17).
"It has become painfully clear that there needs to be a change in management and leadership and organizational culture," he said.
Simitian recruited Supervisor Otto Lee to co-endorse the changes. Lee served on a blue-ribbon commission after three officers beat inmate Michael Tyree to death in August of 2015, resulting in a $3.5 million settlement and three murder convictions.
The Board of Supervisors has limited authority over Smith because she is an elected official, so Simitian is asking his colleagues to refer the matters to other legal bodies that can provide oversight: the Office of the Attorney General, the Fair Political Practices Commission and the Office of Correction and Law Enforcement Monitoring.
Hogan, 27, was awaiting transfer in the back of a van, with his arms and legs restrained by shackles but no seatbelt. He battered his head against the metal grating until he fell unconscious, and he was then left unattended and bleeding, his family said.
It wasn't the only instance of a mentally ill patient claiming he was injured in custody and suing the county.
Simitian is also looking to release information about a lawsuit against the county from Martin Nunez. In psychiatric distress, Nunez ran head first into the metal door of his cell and injured his spine in August 2019. His complaint filed in January said he was left in his cell for an extended period of time, and officers moved him roughly, exacerbating his spinal injuries despite his screams. He still requires "substantial ongoing care" for his injuries, and his claim against the county is unresolved.
Sheriff Laurie Smith responded in a statement shared by a spokesman.
"These incidents were tragic and the impact to them and their families cannot be understated," she said. "Both were in custody for minor charges and should have been placed in treatment facilities, not a jail. I have long been a proponent of mental health treatment for individuals suffering from mental illness, not incarcerating them in a jail environment."
Facilities have been improved for those with disabilities and modified with suicide prevention construction, she said.
The jail is severely understaffed, making it difficult to operate in a safe and secure manner, she said. The sheriff's office was reduced by 266 positions since 2019.
Simitian said the issues at the jail are not from a lack of funding or resources. The department of corrections had a $160 million budget in 2012 and a $232 million budget this year.
Smith, 69, began her career with the sheriff's office in 1973. She was elected in 1998 and re-elected five times since. She took over operation of the jail in 2010.
Smith has not announced she is running next year. Simitian said only one candidate, Sgt. Christine Nagaye, has announced she will challenge Smith, and she faces an uphill battle.