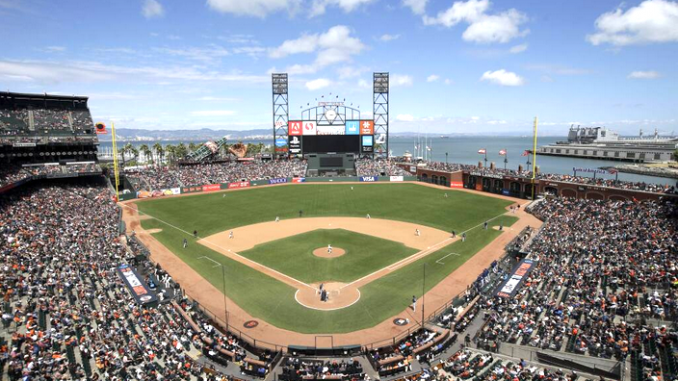 BY EMILY MIBACH
Daily Post Staff Writer
In the past week, the proponents of Measure RR, the one-eighth-of-a-cent sales tax for Caltrain, have raised nearly a half-million dollars, getting donations from the Giants, Google, Adobe and developers according to financial disclosure forms.
The campaign has raised at least $1.72 million, up from $1.27 million last week.
Google donated $100,000, Adobe $50,000 and the Giants, under the name San Francisco Baseball Associates LLC $15,000. Others who have donated include engineering firms AECOM $50,000, BKF Engineers $10,000 and LTK engineering $15,000.
Additional donations that have rolled in this week include $25,000 from developer Jay Paul, $10,000 from El Camino Hospital, $10,000 from Comcast, $20,000 from biopharmaceutical company Amgen, which has offices in South San Francisco, $26,000 from
the union IBEW and $20,000 from the Northern California Carpenters Regional Council. Life sciences developer IQHQ has donated $25,000, as have developers DMB Pacific Ventures, $10,000 and Lowe Enterprises, $15,000.
Lowe is proposing to redevelop the Sequoia Station retail center in Redwood City, Paul is looking to build a 765,150-square-foot office campus east of Highway 101, across from the train tracks off of Blomquist Street. DMB was behind the proposal to develop Redwood City's salt ponds.
London Breed-linked group donates
Another group, Neighbors for a Better San Francisco, has put in $68,000 throughout the past month. According to news site 48 Hills, the group has raised more than $5 million and has spent most of running attack ads on San Francisco supervisorial candidates who are opposed by Mayor London Breed. One of the biggest donors to the group is hedge fund manager William Obendorf, who has donated more than $1 million to the Republican Party, 48 Hills reports.
So far, the largest donor to the group Committee to Save Caltrain has been Missouri-based Herzog Contracting Corp., giving $350,000. Herzog is the parent group of Transit America Service Inc., has a contract with Caltrain to run the trains.
Other big donors include $100,000 came in from Prologis, a San Francisco-based real estate investment company, $90,000 from the 49ers and $50,000 from Stanford.
The money goes toward advertising, such as TV commercials and mailers, to convince voters to raise the sales tax. The sales tax in Santa Clara County is already 9%. In San Mateo County, it's 9.25% in most cities. In San Francisco, it's 8.5%.
Donors are helping themselves, opponents say
Opponents of the ballot measure, primarily San Mateo County Republicans, say that these companies stand to benefit either by getting contracts from Caltrain or by avoiding taxes to pay for the transportation of their own employees.
"Let's be frank about it. Their employees are the ones using Caltrain as a commute option," former Foster City Mayor James Lawrence told the Post last week.
Measure RR is expected to bring in $108 million annually and will last 30 years. Proponents have said the measure will save Caltrain from certain financial ruin after the COVID shutdown led to commuters working from home.
They were previously planning on spending the money for upgrades to the system for electrification, which has been slated to increase ridership and frequency of trains.
Measure RR barely made the Aug. 7 deadline for ballot measures. San Francisco and Santa Clara county officials raised concerns over the fact that SamTrans, San Mateo County's transit agency, runs Caltrain.
The SamTrans board hires and fires Caltrain's CEO.
Initially, San Francisco Supervisors Shamann Walton and Aaron Peskin declined to have their supervisors vote on whether to put Measure RR on the ballot.
But eventually, a side deal was made between the three counties that will result in changes in how Caltrain is governed. The side deal led all three counties' supervisors and transit agencies to agree on putting the measure on the ballot.