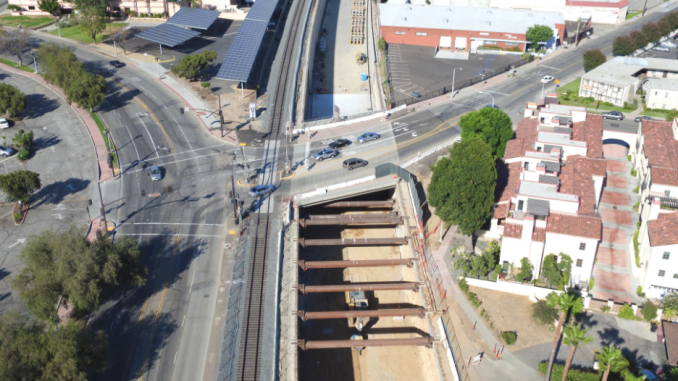 Above is an aerial shot of construction of a train trench in San Gabriel in July 2016. While the trench was being excavated, the train was put on a temporary shoo-fly track to the left. The San Gabriel trench opened over the summer at a cost of $313 million for 1.4 miles. Photo by Brian Bothun.

BY ALLISON LEVITSKY
Daily Post Staff Writer
Separating the Caltrain tracks from the four Palo Alto streets they intersect — a necessity when the tracks are electrified in 2022 and high-speed rail launches in 2029, sending more trains per hour through the corridor — could cost as much as $4 billion, depending on how the city decides to go about the project.
A 42-page draft of a technical white paper by the consulting firm Mott MacDonald on financing the project was posted to the city's website yesterday with other materials for the Rail Committee meeting on Nov. 29, revealing ranges of costs and funding options for the massive project.
Grade separations, where a bridge separates the street from the tracks, are the cheapest option listed in the paper. Lowering Churchill Avenue, Meadow Drive and Charleston Road below Alma Street and the tracks would cost $302 million.
For another $221 million, the city could choose to also lower Alma Street to meet Churchill, Meadow and Charleston.
Going underground
Underground options, putting the train in a trench or a tunnel, are more expensive, though they'd cut down on noise and in some cases, allow for streets to be placed on top of them.
For between $750 million and $1 billion, the city could opt for an open trench at 2% grade under Meadow Drive and Charleston Road.
For between $2.4 billion and $2.9 billion, the city could dig an open trench across city limits, and for between $2.8 billion and $3.4 billion, the train could be sent through twin deep-bored tunnels.
A cut-and-cover tunnel from Mountain View to Menlo Park would cost between $3.3 billion and $4 billion. Cut and cover means they would dig a trench and put earth on top of it.
The paper identifies a general obligation bond funded by a property tax increase as "by far the most meaningful funding opportunity," noting that it would require two-thirds voter approval.
Funding alternatives
Transportation projects typically draw from multiple funding sources. A property tax increase of between 0.05% and 0.25% could bring in between $143 million and $713 million, according to Mott MacDonald.
Other tax hikes, like sales, hotel bed or business license taxes could also help, but would also require two-thirds approval if dedicated to grade separation and would generate less income, are more volatile and are not appropriate for municipal debt, Mott MacDonald concludes in the paper.
A 10-year parcel tax of $50 to $100 could pull in between almost $22.5 million and almost $45 million.
A decade-long sales tax increase of between 0.1% and 0.25% could bring in between $23.7 million and $59.3 million, while a 10-year hotel bed tax increase of between 1% and 3% could bring in between $16 million and $47.9 million.
Measure B, a 30-year sales tax passed by Santa Clara County voters last year to fund transportation projects, sets aside $700 million for grade separation in Palo Alto, Mountain View and Sunnyvale.
The paper estimates that Palo Alto will obtain between $350 million and $395.5 million from Measure B funds.
Project-based funding and "value capture" tools, like a development agreement on a real estate project, could bring in between $50 million and $235 million.
The California High-Speed Rail Authority is one of a slew of other state and federal funding sources that could prove important for grade separation, the paper says, but the competitive nature of these government funding sources can make the amount and timing of the funds difficult to predict.
Two other white papers from Mott MacDonald, on the geotechnical aspects, like soils and hydrology, and the options of trenching or tunneling the rail line, are expected next month or in early January.