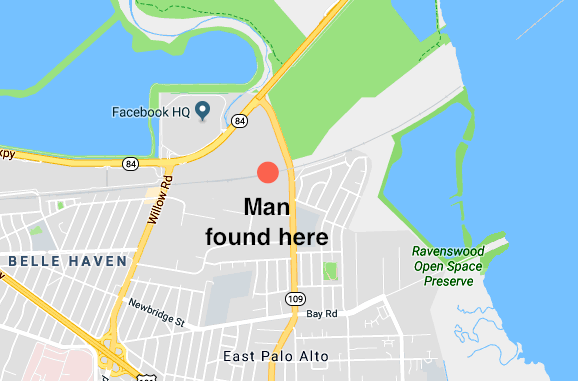 By the Daily Post staff
A transient who lives in the marsh area southwest of the Dumbarton Bridge was shot several times tonight (Nov. 22) and is undergoing surgery at Stanford Hospital, Menlo Park police said. The shooter is at large.
At 5:30 p.m., police got a call about a person with abdominal bleeding on the decommissioned Dumbarton railroad tracks, near University Avenue, not far from where University intersects with the Bayfront Expressway.
Police said the victim — described only as an Hispanic man in his 30s — was rushed to Stanford Hospital.
"Officers were able to determine from the victim that he is a transient who lives in the marsh area near the crime scene and that the suspect who shot him may be another transient who lives in the area," police said in a statement.
Menlo Park police, assisted by other police agencies, set up a perimeter to search for the shooter. A CHP helicopter and a drone from the Menlo Park Fire Protection District were also used in the search.
Police said they found several homeless encampments in the area. The occupants of these encampments were detained, interviewed and released, police said.
While no arrests have been made, police said they have several leads they're investigating.