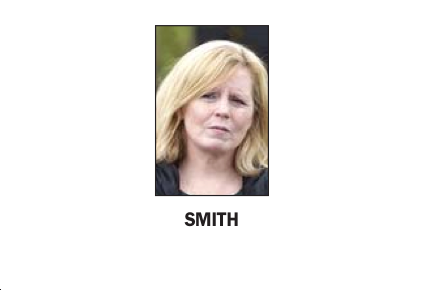 BY ALLISON LEVITSKY
Daily Post Staff Writer
Santa Clara County Sheriff Laurie Smith is running for her sixth four-year term next year, she told the Post through a spokesman.
Smith became California's first female sheriff when she was elected in 1998, after 25 years with the sheriff's office. The news that she will run again comes as Smith copes with another problem arising from her role overseeing the detention of inmates.
Smith said that she would seek office again while answering emailed questions from the Post about the escape of two inmates from the Palo Alto courthouse on Nov. 6.
Tramel Leon McClough, 46, was arrested by CHP officers in Stockton on Tuesday evening.
The second escapee, John Penn Bivins, 47, is still at large.
Sheriff's Sgt. Rich Glennon said that detectives from the Sheriff's Office had tracked McClough and Bivins, both of East Palo Alto, to the Stockton area and that Smith's office had asked for help from Stockton police and the CHP. Detectives from the sheriff's office were in Stockton at the time of McClough's arrest, according to Glennon. A CHP officer shot at Bivins during the pursuit, but Bivins was able to flee in a green 1999 Ford Explorer.
Smith declined to be interviewed about the escape investigation, but said through Glennon that her office had made changes at the Palo Alto courthouse "in regards to inmate movement through public areas."
Unlike at the Hall of Justice in San Jose, which has in-custody tunnels for deputies to move inmates from the main jail, shackled inmates are bused in from county jail to the Palo Alto courthouse and shepherded through public hallways.
Smith said that her office is reviewing the investigation into how the two escaped from "all angles," including whether McClough and Bivins had help from the inside, but that she had "absolutely no information indicating there was willful help on the part of any county or court employee."
Leaders of both unions representing sheriff's deputies told the Post that as co-defendants, Bivins and McClough shouldn't have been housed in the same jail module at the Elmwood Correctional Facility in Milpitas, where they would have had time to plan the escape. But Smith denied that her office has a policy or practice against holding co-defendants or associates in the same module.
The sheriff has overseen the county jails through a series of mishaps, including six inmate escapes in the last year and the June 1 murder conviction of three jail guards in the beating death of a mentally ill inmate in 2015.
In 1973, Smith was sworn in as a jail matron while studying for her bachelor's degree in the administration of justice at San Jose State. She later earned a master's degree in business management at Cal Poly Pomona. Smith has served as president of the California State Sheriffs' Association and has been named Woman of the Year by the state Assembly.
She has already been challenged by John Hirokawa, who, as Smith's former undersheriff, served as the county's chief of corrections until he retired in 2016.
Hirokawa has been endorsed by former Palo Alto Councilwoman Gail Price, retired Palo Alto police chiefs Lynn Johnson and Dennis Burns, retired Los Altos police chiefs Lucy Carlton and Tuck Younis and retired Santa Clara County Superior Court Judge LaDoris Cordell, who also is a former Palo Alto councilwoman.
Cordell chaired the Blue Ribbon commission that investigated the county jails after mentally ill inmate Michael Tyree's murder by three jail guards in 2015.