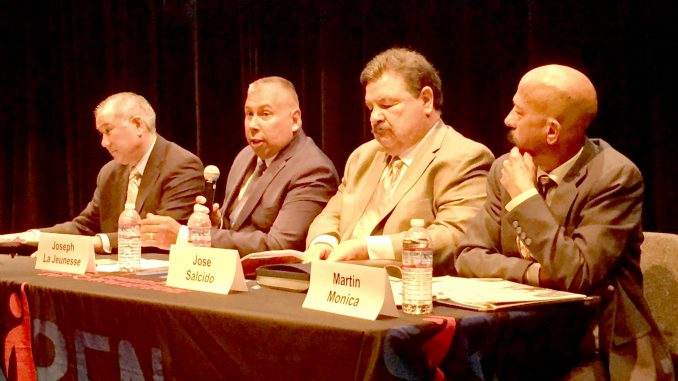 BY ALLISON LEVITSKY
Daily Post Staff Writer
Santa Clara County Sheriff Laurie Smith was barred from reading a statement before a candidate forum in Mountain View last night (April 24) after she told organizers that she wouldn't be participating in the event with her four challengers.
Smith appeared in her sheriff's uniform at the Mountain View Center for the Performing Arts and asked event organizers from the San Jose-based Services, Immigrant Rights and Education Network, or SIREN, if she could read a statement about her platform, then duck out to make it to another engagement.
Organizers told her no, reasoning that it would be unfair to the other candidates, SIREN Community Organizer Jeremy Barousse told the Post.
Candidates John Hirokawa, Joe LaJeunesse, Jose Salcido and Martin Monica notified SIREN that they would participate last month.
On April 13, Santa Clara County Democratic Party Chair Bill James issued a press release accusing Smith of snubbing upcoming candidate forums, including one in Campbell tonight with the Silicon Valley Association of Republican Women, one in Cupertino tomorrow with the De Anza Student Association and one in San Jose's Berryessa neighborhood with the Berryessa Citizens Advisory Council on May 14.
Since then, Smith has confirmed her participation in three candidate forums, not including last night's, tonight's or tomorrow's, according to Hirokawa campaign manager Jeff Cardenas. Smith didn't return a request for comment.
Cooperation with ICE
About three dozen people attended the free public forum last night, including SIREN's Mountain View Leaders, a group of adult immigrants who organize and lead campaigns. Most seats in the room were empty.
A Spanish interpreter translated the forum over headsets for some audience members.
Most of the questions focused on immigrant issues, including the candidates' positions on the county's policy on honoring detainer requests from Immigration and Customs Enforcement, or ICE, the county's lawsuit against the Trump administration over its threat to withhold federal funds from sanctuary jurisdictions and their response to the incident last month in which ICE agents were mistakenly allowed to interview jail inmates in violation of the county's sanctuary policies.
The county's policy only allows for law enforcement to honor civil detainer requests from ICE by holding adult inmates convicted of a serious or violent felony for an additional 24 hours after they would otherwise be released.
LaJeunesse, a current courtroom bailiff under Smith, admitted that he doesn't support sanctuary policies, highlighting his experience working as border patrol for the U.S. Army.
"When we release these people back into the community, ICE is going to do sweeps and sweep everybody," LaJeunesse said.
Hirokawa, who said he helped draft the county's detainer policy, said ICE was mistakenly let into the jail because Smith is "ambiguous" with the rank and file about her policies regarding civil detainers, adding that he was in favor of Senate Bill 54, the so-called "Sanctuary State" bill.
"Protecting our community includes protecting immigrants," Hirokawa said. "There needs to be clear direction and clear policy from the top."
Monica, a fifth-grade teacher and former San Jose police officer, accused ICE of going after innocent families, but added that "we don't want violent people here."
Salcido, a former lieutenant and commander in the sheriff's office, said he supported the county's non-cooperation with ICE. Since leaving the sheriff's office in 2009 for a policy job at San Jose City Hall, he has focused on public safety, neighborhood outreach and gang and crime prevention.
"I don't think we want gang members kept in our community," he said.
Candidates give their priorities
When asked about their top priorities, the candidates came back with an array of answers.
Hirokawa said he wanted to ensure constitutional rights for immigrants, reform the county jails and come up with alternatives to incarceration, especially for the mentally ill.
LaJeunesse said he wanted to expedite law enforcement response to school shootings by bringing ShotSpotter, a gunshot detection technology, to schools in the county. He also wants to implement better training for deputies in their interactions with the mentally ill and modernize technology in the sheriff's office.
Salcido said he wanted to focus on public safety, including property crime, to collaborate better with neighboring police agencies and to reform the jails to lower recidivism rates.
Monica said he wanted to focus on mental health issues in and out of the jails, to introduce new leadership and to bring in more comprehensive community policing.