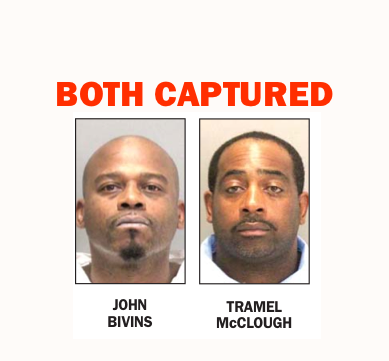 From staff and wire reports
U.S. Marshals on Sunday (Nov. 26) captured the second of two inmates who made a brazen getaway from the Palo Alto courthouse, authorities said.
John Bivins, 47, was taken into custody outside a Fairmont Inn in San Leandro at 9:30 a.m.
Bivins and Tramel McClough, 46, escaped from a deputy Nov. 6 while they were being escorted through a hallway outside the courtroom for a hearing. The men ran through an emergency exit, downstairs and outside to a waiting car before abandoning the vehicle for a U-Haul moving van. A handcuff key was found outside the courthouse the day of the escape.
On Nov. 21, the two men are said to have led officers on a 2-mile chase from northbound Interstate 5 to a Walmart Supercenter in north Stockton after an officer tried to pull them over. McClough, who was driving the Ford Explorer, got out and ran into the Walmart. He was later arrested. A CHP officer shot at Bivins about a half-mile away. He fled north in the Explorer afterward.
After he was arrested Sunday, Bivins was taken to a hospital for treatment of unknown injuries, the Chronicle reported. Marshals spotted him walked out of the hotel, and when they approached him, they demanded he surrender, the agency said. Bivins resisted arrest and was forced into custody, authorities told the Chronicle.
Both escapees were considered to be dangerous given their criminal history.
During an email exchange with the Post on Friday about the search for the escapees, Santa Clara County Sheriff Laurie Smith said she will seek an unprecedented sixth term next year. Smith's former undersheriff and jail chief John Hirokawa is running against her. Hirokawa retired in 2016.
Bivins and McClough, both from East Palo Alto, escaped before a court hearing for their armed robbery case from February. McClough, a three-striker, faces a life sentence if convicted of the holdup at gunpoint of a Sunnyvale Verizon store. Bivins faces up to a 25-year sentence. Officials said the men were held without bail after robbing the store of $64,000 in merchandise.
On Nov. 7, McClough's longtime girlfriend Marquita Kirk, 44, of Sunnyvale, and Rene Hunt, 54, of East Palo Alto, were arrested for allegedly arranging for the two getaway vehicles.
The escape was the latest setback for the sheriff's office. Four inmates escaped from the county's main jail last year by cutting through metal bars and rappelling with a rope made of clothing and sheets.