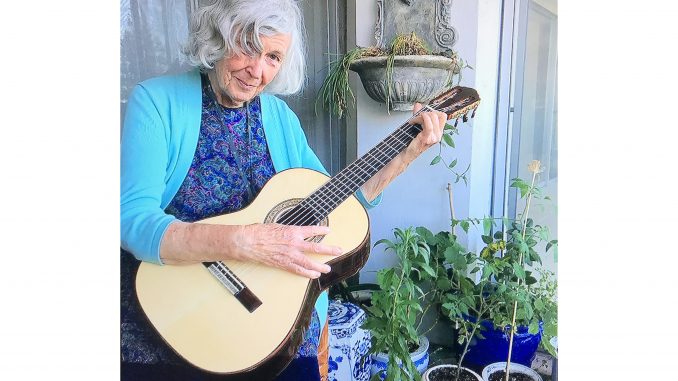 BY DAVE PRICE
Daily Post Editor
Stephanie Munoz, a longtime Palo Altan who frequently spoke at City Council meetings to champion the cause of the less fortunate, has died at age 86.
Munoz is likely known to residents for her three-minute speeches during the council's open microphone segment and her frequent letters to the editor, but what was less known was that she practiced what she preached.
For instance, on Thanksgiving day, she would hand out turkey sandwiches to the poor who often sleep at night on VTA bus 22 that travels across the county, according to her family.
Friends and family got together Sunday (Aug. 4) afternoon in her apartment at 101 Alma to say goodbye. According to her daughters, she had wanted the entire City Council to visit her bedroom. The bedroom, about 200 square feet, has an adjoining bathroom and a patio on the other side where she had plants. Munoz felt that many such small homes could be built for seniors at an affordable cost in an attempt to keep residents from being priced out of Palo Alto, her daughter Theresa Munoz said.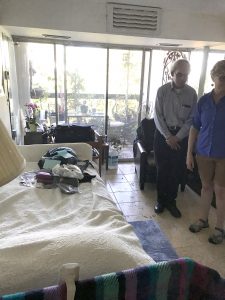 Of course, her apartment had other rooms, such as a kitchen, living room and dining area. But Munoz felt those rooms could be shared by many people and that all a person would need for themself is a 200-square-foot room with a bathroom and patio.
"For her, this was like a paradise," said daughter Cristina Munoz.
Munoz died in her sleep on Thursday (Aug. 1) in that room, according to Theresa Munoz. The cause is believed to be heart failure.
Munoz was a fixture at council meetings. Her issues were generally housing, health care and justice.
"Her values were deeply Christian. Love thy neighbor as thy self and the meek will inherit the earth," said Theresa Munoz.
When it came to housing, she supported the tenants of the Buena Vista Mobile Home Park when that development was threatened with redevelopment. She was also a vocal supporter of the car campers.
Years ahead of her time
And, about three years ago, she began saying that when the Cubberley Community Center is re-developed, it ought to include teacher housing. At the time, nobody was talking about that. Then this spring, it was formally proposed as an option.
Another cause for Munoz was recycling, and in death, she practiced what she preached. She donated her body to UCSF's medical school, her daughters said.
The only council member at yesterday's memorial on the seventh floor of 101 Alma was Lydia Kou, who said she appreciated Munoz's institutional knowledge of Palo Alto. Kou said she would frequently hear Munoz recollect on the city's history, and her account would be corroborated by others.
"Her stories put a smile on your face," Kou said.
Political backbone
At Sunday's gathering, attendees reflected on Munoz's political backbone. Her daughters believed she got that from her paternal grandfather, who was banished from Ireland for his political views.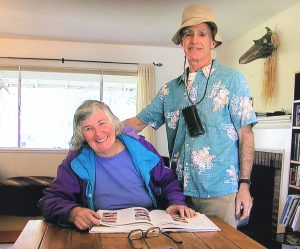 But there may have been another reason that ignited her passion. In the late 1950s, she and her late husband Robert were buying a house in Los Altos Hills and they came across a covenant for the town that restricted blacks, Hispanics, Asians and other non-whites. Robert Munoz was Hispanic. The owner of the property looked at the covenant and said he didn't care what it said. He sold them the home.
That episode may have led her down the path to becoming an activist, her daughters said. They recall that it was in the late 1960s when their mother first started speaking at council meetings.
Munoz was a long-standing member of the Women's International League for Peace & Freedom, Peninsula branch, and served on its Low-Income Housing Committee.
Munoz was preceded in death by her husband Robert, who was a NASA engineer.
She is survived by her four children, Theresa, Bob (Lynne), Cristina (David E.) and David (Laura Chicchi), and grandchildren Brian, Mica, Savannah, Rob, Marcus, Grant, Sophia, Adam, Sara and Isaac, and great-grandchildren Maison and Leo.