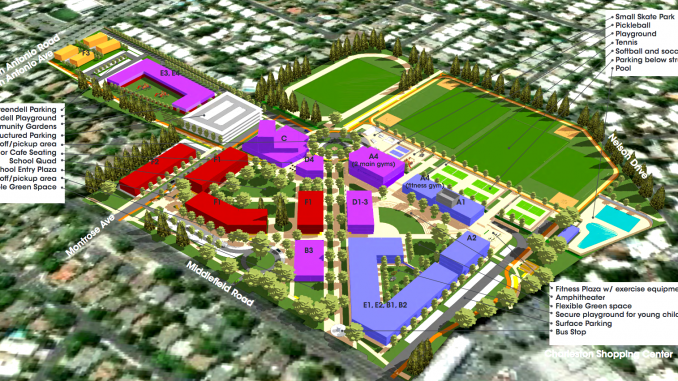 BY ALLISON LEVITSKY
Daily Post Staff Writer
The renovated Cubberley Community Center could one day be home to an amphitheater, a health and wellness center, two gyms on top of each other, a pool, a cafe, a maker space, affordable housing and more — but there's no word on what the project will cost.
City Council heard a presentation last night (Feb. 11) from consultants on the plan to rebuild the 35-acre high school-turned-community center.
The district owns 27 acres of Cubberley, located at 4000 Middlefield Road, while the city owns 8 acres and leases the 27 district-owned acres to operate the community center.
The neighboring district-owned sites at Greendell School and 525 San Antonio Road, which are leased to two private schools, will also be part of the project for a total of 43.1 acres.
The school district may end up building teacher housing or a new district office on the site.
Councilwoman Liz Kniss praised the "appealing" project and noted that the consultants from Concordia, a New Orleans-based firm, had "included everyone" in the process by holding a series of public outreach meetings.
The cost
But, she asked, what will the project cost?
"It's so much fun to get excited about something, whether it's Cubberley or your own house," Kniss said. "Do you have any thoughts as to how this would be funded?"
Community Services Department Chief Operating Officer Kristen O'Kane said rebuilding Cubberley would probably require several funding sources.
"We recognize that this process is a little different than, maybe, a (capital improvement plan) project, where you have your cost and then you design around the cost," O'Kane said.
O'Kane said the project may require a combination of public financing such as a bond measure with private donations and grants.
Concordia CEO Steven Bingler said his firm would need to plan for that with the city's finance leaders.
"It's going to be a complicated little jigsaw puzzle, but we're going to figure it out," Bingler said. "It might take 20 years."
Concordia Principal Bobbie Hill said the project would be phased in order to avoid losing existing programs.
Cubberley operated as a high school until 1979, when it closed as enrollment dropped.
The city's lease agreement with the school district requires that the two agencies develop a joint master plan for the site by the end of 2019.
Cubberley is the only district-owned site that could accommodate a third full high school or large middle school if enrollment increases in the future. The plan for Cubberley keeps that possibility in mind, so the community center could transition back into a school if needed.
Two to four stories
Attendees at the public workshops supported the idea of a two- to four-story "shared village" scheme, where the city and school district would share some buildings, but not all.
The district doesn't expect to need another school in the next 10 years, though Stanford's plan to expand and bring 10,000 new students and employees to campus could change that.
Council hired Concordia in June to hold public outreach meetings. More than 380 residents — who traffic safety activist Penny Ellson noted were largely senior citizens — gathered at three meetings between Sept. 27 and Jan. 24 to discuss their priorities for the project, including on facilities, traffic circulation and aesthetics for buildings and landscaping.
Residents showed a preference for the contemporary/"high-tech" or Midcentury Modern architectural styles over others, including the Mission style and Arts and Crafts.
Popular ideas included adult education classrooms, a theater, green space, a workshop, senior and multigenerational programs, a dog park, a new playground, a skate park, tennis courts and flexible rental space. Several of those programs already exist at Cubberley, the consultants note in a report.
Less pavement, more green
The plan would include 59% more green space and 40% less pavement — thanks to replacing surface parking with a parking structure and underground garages — than exist at Cubberley today.
Currently the plan includes 1,380 car parking spaces and 1,800 bike parking spots.
Councilwoman Alison Cormack praised the plans and said she had never seen so many people participate in a planning process.
Cormack also urged that the city shuttle route go to Cubberley and that senior housing, preferably affordable, be incorporated into the plan.
Councilman Tom DuBois said he wanted to see a plan for how to manage the gym and pool space at Cubberley and to make sure there's a designated city gym.
He also said he wanted to see preschool and child care programs at Cubberley because of the "huge need" for affordable options in Palo Alto.
Concordia will also bring the project to the school board tonight (Feb. 12) and the Planning and Transportation Commission tomorrow (Feb. 13).
On May 9, Concordia will hold its fourth and final public meeting to present a "draft master plan" of Cubberley.