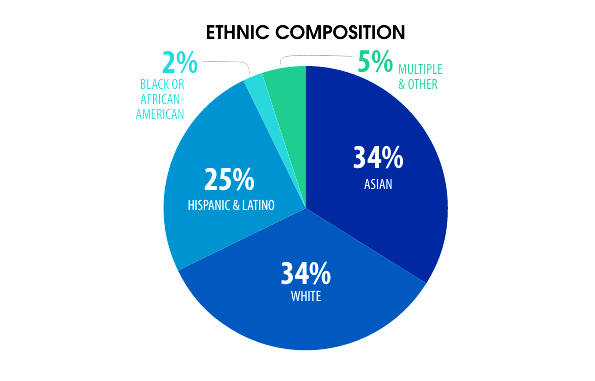 BY ALLISON LEVITSKY
Daily Post Staff Writer
Twenty-four percent of local renters and 15% of mortgage holders spend more than half their gross income on housing, according to a new study from Joint Venture Silicon Valley.
Major themes in the 2019 Silicon Valley Index include a booming local economy with high incomes and full employment, increasing diversity, soaring cost of living and deepening income inequality. Residents are leaving for cheaper parts of California and other western states, and immigrants are largely replacing them.
The annual report examines statistics across the local economy, social issues, housing, transportation, the environment and governance, among other topics.
Joint Venture defines "Silicon Valley," with 3.1 million people, as Santa Clara and San Mateo counties, as well as Fremont, Newark, Union City and Scotts Valley.
Aging population
The region is aging, seeing a declining birth rate, getting more educated and becoming more diverse. Traffic is getting worse and housing is more expensive in Silicon Valley than anywhere else in the country, according to the report.
The Valley's average monthly housing cost was pegged at $2,341 and apartment rental rates average $2,911 a month.
Joint Venture found that the number of new homes permitted has kept pace with population growth over the last two years, but only 15% are affordable to residents with low to moderate incomes.
The over-65 demographic has grown 35% over the last 10 years, more than three times faster than the overall population, at 10%.
At the same time, the region is seeing birth rates lower than at any time in the last 50 years, particularly among college-educated women who are waiting until age 30, on average, to have children and having fewer of them.
Meanwhile, tens of thousands of residents are leaving each year for cheaper parts of the country. Almost 22,300 left last year for other places in California and the U.S., with most going to the Sacramento area, San Joaquin County, Austin, Texas, and Seattle.
They're largely being replaced by immigrants as the region continues to become more diverse.
Between July 2015 and July 2018, 64,318 residents left for other parts of the U.S. while 61,977 immigrants moved to Silicon Valley.
And for the first time in history, Asians, at 34% of the total population, outnumber whites (33.5%) in the region. In 2017, 38% of residents were born outside the U.S., more than 2.5 times the national av- erage. And 52% of residents speak a language other than English at home.
Immigrants have 69% of tech jobs
Immigrants make up 69% of the workforce in highly technical occupations, including 26% from India and 14% from China. Seventeen percent are from California, and 14% are from other U.S. states.
Almost 3 out of 4 women tech workers in the region between ages 25 and 44 are foreign-born and are disproportionately from Asian countries, married and have children.
The region is also getting more educated, with 51.6% of residents holding a bachelor's degree, up from 44.2% in 2007. Twenty-four percent of adults in Silicon Valley also have a graduate or professional degree.
There's a greater economic gap between those with advanced degrees and those without a high school diploma in Silicon Valley than almost anywhere else in the country.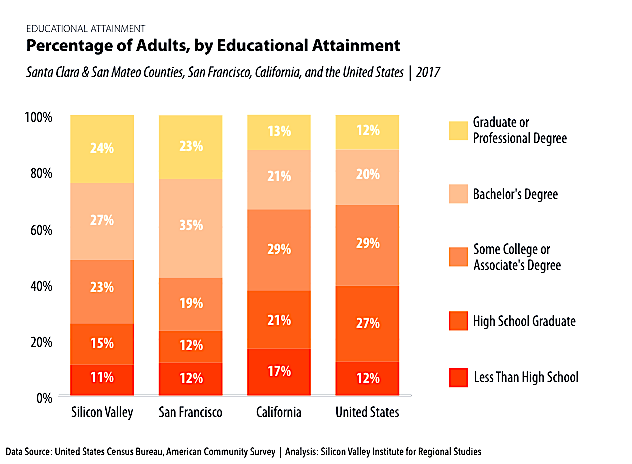 Silicon Valley residents holding a graduate or professional degree earn nearly $87,767 more per year than those with less than a high school diploma, more than $62,907 statewide and $48,066 nationally.
And while 9% percent of households hold at least $1 million in investable assets, the top 2% of house- holds in Silicon Valley own about 27% of the region's wealth.
Some 26% of households make more than $200,000 a year, but 37% of students receive free or reduced-price meals at school, despite a relatively low 7% poverty rate.
Ten percent of residents lack consistent access to nutritionally adequate food.
Thirty percent of homes rely on public or private, informal assistance in order to get by, including 57% of Latino households.
Commute times up 20%
Traffic is also getting worse. Commute times have increased 20% in the last decade, adding 50 minutes a week to each commuter, on average, with traffic delays causing an estimated $2.7 billion loss in productivity per year.
Over the past four years, the number of San Francisco and Silicon Valley households earning $150,000 a year or more has increased by 35% and the number of low-income households has declined.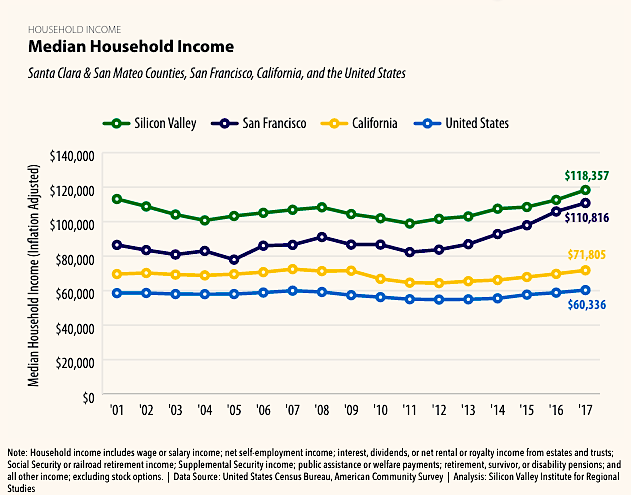 More than one-fourth of Silicon Valley households earn more than $200,000 per year, compared to 11% statewide and 7% nationally.
Median home prices are over $1 million and the cost of child care has increased 52% since 2012 to $1,742 per month for infant care.
Basic transportation for a family of four has risen 18% since 2014 to $525 per month.
The full report can be found at jointventure.org.