GUEST OPINION
BY ROBERT SMITH
The Palo Alto Unified School District decided last year to proceed with renaming the Jordan and Terman middle schools because of the advocacy of eugenics by the namesakes. A district committee had looked at the well-known literature concerning David Starr Jordan and Lewis Terman and found them to be supporters of the dangerous pseudo-science of eugenics. So, stripping these two names from the schools made sense.
However, Terman Middle School also bears the name of Frederick Emmons Terman, Lewis' son, and the committee found no evidence of any support of eugenics on the part of Fred. The district seems to have decided to dishonor Fred along with Lewis Terman and Jordan without sufficient careful thought about the problem.
Confusion?
One solution would be to leave Fred Terman's name on the building. This has already been rejected. Indeed, former superintendent Max McGee went so far as to stipulate that no one named Jordan or Terman could be honored. McGee said that leaving Fred's name on the building would cause confusion. Board member Ken Dauber stated that he did not think it would "cast aspersions on Fred Terman" to remove his name.
I disagree. It seems likely that removing Fred's name will leave the impression that Fred, like his father Lewis and also Jordan, was a supporter of eugenics. This incorrect impression is already taking hold, with newspaper accounts stating that the namesakes of these schools were eugenicists. In the future, you may have to be a researcher to be able to unearth the truth about Fred Terman.
But why is Fred important? During my times at Stanford, I met many people who had known and worked with Fred, people now mostly departed. They spoke of him with a confidence and almost reverential respect that cautious academics seldom display. As provost of Stanford University, he spearheaded the growth of the university into a world-class organization. He also learned how the university could be connected to the growing industries that we now collectively call "Silicon Valley." Fred was often called the "father of Silicon Valley."
Fred's biography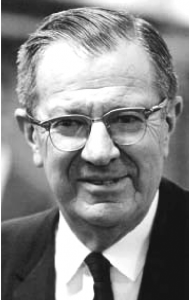 If you want to know more about Fred, the standard biography is "Fred Terman at Stanford: Building a Discipline, a University, and Silicon Valley" by C. Stewart Gillmor. The foreword to this book by Richard C. Atkinson is online at http://www.rca.ucsd.edu/speeches/terman_foreword.pdf; it gives a good sense of Fred's historical importance to this community.
Why is the school district about to dishonor an innocent person? Part of it is the lack of adequate thought about the process. Issues of removing statues and renaming buildings are fairly new in the U.S., and we don't have good models to follow, and many of the actions (and reactions) are highly emotional. Princeton University and Yale University recently went through renaming exercises, and Stanford is now working on their process for renaming. These universities have proceeded more carefully than our school district.
But there is something darker than simple inexperience. Consider the nature of eugenics, the thing we are trying to show our disapproval of. Eugenics judges people by their heredity: their families, tribes, and ethnicities, and treats them according to those associations. This is a very ancient human tendency; some have suggested it is programmed into our DNA.
Separating father from son
I believe that Fred Terman is being marginalized because his name is Terman and his father was a supporter of eugenics. Jim Terman, a grandson of Fred Terman, said at a district meeting, "I feel like my grandfather is being thrown under the bus because no one has accused him of doing anything wrong, but there's somehow the idea 'because of his father he's tainted.'"
Somewhere, in our minds, we think "like father like son" and "the apple does not fall far from the tree." It is a small journey to the passage from Genesis that "the iniquity of the fathers shall be visited upon the sons, to the third and fourth generation." Is this what Palo Altans believe?
Missing a 'teachable moment'
No innocent person should have to be punished or have his memory dishonored, and people should not be held responsible for things their family members do. The school district is damaging its credibility by treating Fred Terman in this casual and inconsiderate manner. We are also missing a "teachable moment" in which we can reject eugenics in current events as well as in history.
There are many alternatives the district can adopt for honoring Fred Terman and thereby vouchsafe the integrity of the district's renaming process, including other buildings that can be renamed. The board needs to find a way to honor Fred.