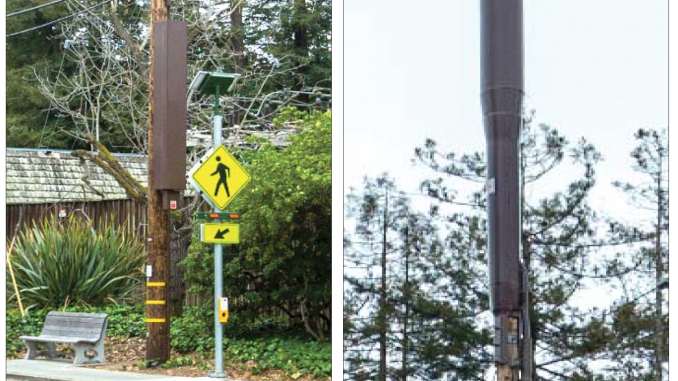 BY EMILY MIBACH
Daily Post Staff Writer
Los Altos City Council tonight (Aug. 5) will vote an ordinance that nearly bans small cell antennas, or "nodes," in residential neighborhoods.
Cellphone companies say the nodes, which are mounted at the top of utility poles, will improve service, but residents fear they will reduce property values, mar views and emit harmful radiation.
The ordinance council will look at tonight sets forth the city's preference order as to where these nodes can go in town. That list puts neighborhoods at the very bottom. That means they won't be completely banned in residential neighborhoods.
If telecom companies want to put a cell node in a neighborhood, they must file an application with the city that explains why the city must approve the project and how it will benefit the area's cell coverage.
Applicants will also have to include the following:
• A description identifying where service will be improved if the node is installed in the neighborhood,
• A master plan of all proposed nodes in relation to the existing and potential locations in the city for nodes,
• An analysis of at least five other places in the area where the company could put the node instead,
• A sample of the proposed notice, and the envelope it will be mailed in, that will be sent to all residents within 1,000 feet of the new node.
No new poles could be erected for nodes in any residential neighborhood, according to the draft ordinance.
Buffer zones for schools
The ordinance also requires that the nodes cannot be within 500 feet of a school, the nodes must be separated by 1,500 feet and be placed mid-block so they are not as obvious when placed on street corners.
This ordinance comes after the council last Tuesday discussed two ordinances — one written by Assistant City Attorney Gail Karish while the other was a copy of a similar ban in Mill Valley that was modified for Los Altos by Mayor Lynette Lee Eng.
Vice Mayor Jan Pepper on Tuesday expressed her disappointment that Lee Eng had to modify the ordinance herself, since Pepper asked the city attorney's office to do so and present it to council along with Karish's ordinance.
The council voted to have Karish vet the Mill Valley ordinance and adapt it to Los Altos' standards.
If Los Altos passes this ordinance, it will be the most stringent rules on cell nodes in the area. So far, only Palo Alto has passed some restrictions on the nodes. Palo Alto City Council passed an ordinance June 17 that says the nodes can't be any closer to a school than 300 feet.
The council will meet at 6:30 tonight at 1 North San Antonio Road to vote on the ordinance.