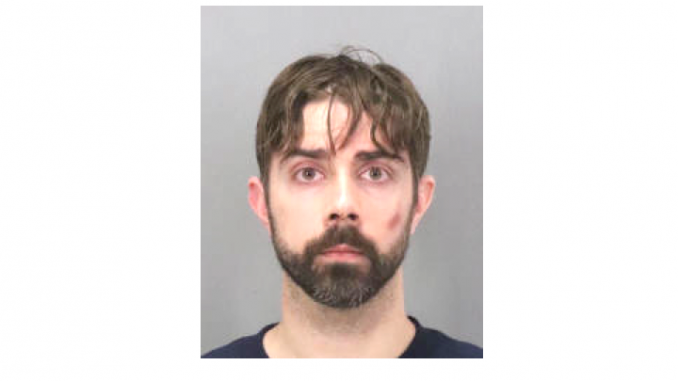 By the Daily Post staff
Palo Alto police used tear gas to arrest a gunman, accused of trying to strangle a woman, following a 29-hour standoff in a home in the 300 block of Tennessee Lane.
At one point during the standoff, the gunman shot a police robot that came into the home to assist in negotiations.
Adam Allen Smith, 29, was arrested Saturday after he was captured by police and taken to a hospital before he was booked into jail.
The episode began at 9:18 a.m. Friday when police got a call from a woman in the house who reported that Smith had attempted to strangle her friend earlier in the day, police said. The caller said that she and her friend locked themselves in a bedroom away from Smith, whom she said had a handgun, according to police.
Dispatchers told the woman that she and her friend should climb out of the bedroom window and they would be met by an officer outside, which they did, police said.
Firefighter paramedics treated the victim, who had visible injuries on her neck, and she was released without being taken to the hospital.
Smith remained locked inside the home and officers could see him pacing and holding a handgun, police said. The Police Department's Special Weapons & Tactics (SWAT) Team and crisis negotiators arrived. Over the next several hours, negotiators attempted to get Smith to surrender, police said.
"While the suspect would intermittently speak with negotiators, he remained defiant and repeatedly stated he would shoot anyone who entered the residence to arrest him," police said in a statement.
Police said they sent a robot into the home on Friday to communicate with Smith, but he fired his handgun at the device, damaging it.
The standoff stretched into Friday evening, and Palo Alto negotiators and SWAT team members were relieved by the Mountain View Los Altos Regional SWAT Team and their hostage negotiators.
Palo Alto SWAT and hostage negotiators returned on Saturday morning. But talks went nowhere, and at 2:30 p.m., SWAT officers fired tear gas into the home.
Within 15 minutes, Smith emerged from the back door. Police said he did not comply with arrest commands, so officers fired rubber bullets at him, hitting him in the stomach. After what police said was a minor struggle, officers were able to take him into custody.
No officers were injured.
Police found the handgun in the home. It was loaded with what police said was an illegal high-capacity magazine.
Smith was taken to a hospital, which police said is their policy after a person is exposed to chemical agents or struck with a less-lethal projectile such as rubber bullets.
Smith was booked into jail for domestic violence, felony vandalism (for shooting the robot), malicious and willful discharge of a firearm at an inhabited dwelling (also for shooting the robot), all felonies. He was also booked for resisting arrest, possessing a large-capacity magazine and failure to register a handgun in California, all misdemeanors.