BY JEN NOWELL
Daily Post Correspondent
Residents will get the chance tonight (July 30) to weigh in on a massive development of homes, offices and stores spanning six blocks along Main Street and El Camino in Redwood City.
Greystar Real Estate initially submitted its plans for the project back in January 2018, proposing the development of five blocks between El Camino and the train tracks. This includes the sites of the former Redwood Roller Rink, Hopkins Acura, Towne Ford, several auto repair shops, a car wash and the Main & Elm restaurant.
Since that time, the proposed project has grown to take up six blocks, which includes the majority of the development at 1601 El Camino with 39 additional apartments down the street at 1304 El Camino.
Apartments added
Greystar's proposal has grown from 272 apartments (including 60 low-income apartments) to 291 apartments (including 97 low-income apartments), according to a report written by city Principal Planner Lindy Chan.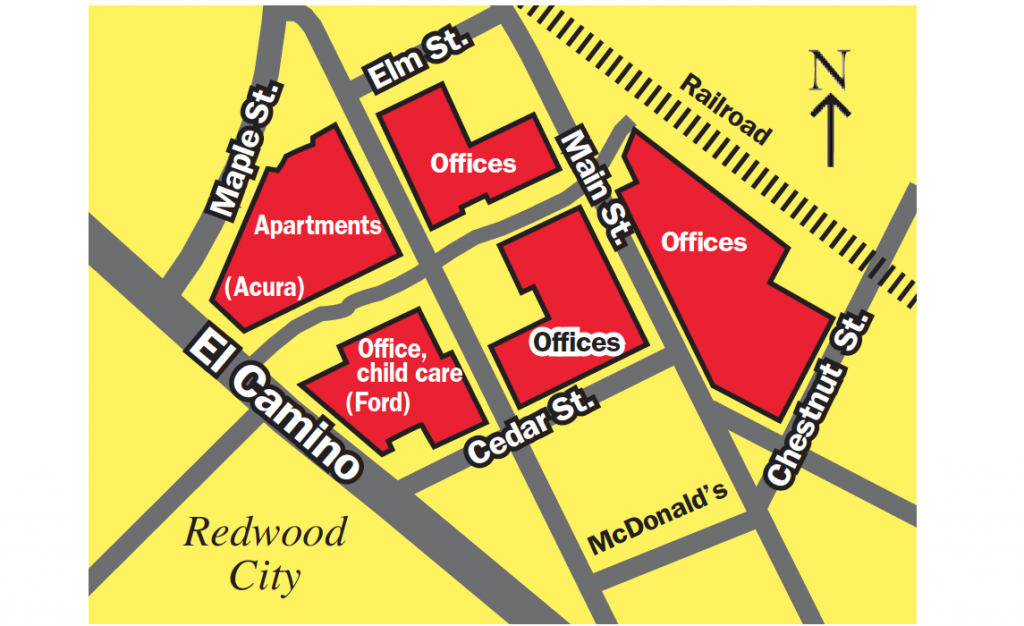 But while the number of homes has grown, the amount of office space proposed by Greystar has shrunk from 589,700 square feet in its original proposal to 550,143 square feet, according to project plans.
These changes could be in response to fears of adding more jobs than homes, worsening San Mateo County's housing-jobs imbalance.
Based on the assumption of one worker for every 200 square feet of office space, the development would accommodate 2,750 employees. And assuming an average of two people would live in each of the 291 apartments, 582 people would be living in the project.
This ratio is slightly better than that of Greystar's original proposal from last year, which had 544 people living in the project compared with 2,948 employees.
Neighborhood impact
Last year when the Post spoke with resident Kris Johnson, who in 2017 appealed another Greystar development at 1409 El Camino, he said he found it hard to believe the neighborhood could support that number of employees getting in and out of the area everyday.
"This contribution to our jobs-housing imbalance will only accelerate the gentrification and displacement in our community," Johnson said. "It's embarrassing."
Mayor Ian Bain told the Post last year that he makes his concerns and expectations clear when he meets with developers, and pushes them to include low-income housing and alleviate traffic.
Additional retail space
Other changes to Greystar's proposal include lowering the square footage of the daycare center but increasing the outdoor area, and increasing the amount of retail space, according to Chan. The proposal includes about 28,000 square feet of retail space and an 8,563-square-foot space for child care, she said.
The proposed buildings fronting El Camino would be four stories (70 feet), six stories (66 feet) and seven stories (84 feet) tall, while the remaining four buildings would each be three stories, or 48 feet, in height, according to plans submitted to the city.
Hearing tonight
The city's planning commission meets tonight (July 30) at 7  to discuss the proposal for 1304 and 1601 El Camino Real. Greystar is looking for feedback from the commission and the public on what to include in the environmental impact report and the proposed development for the site.