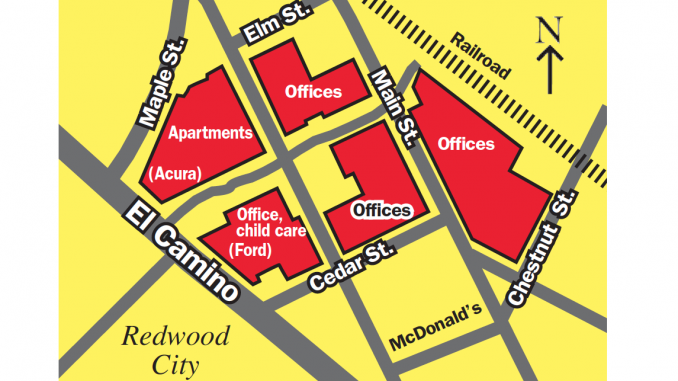 BY EMILY MIBACH
Daily Post Staff Writer
A massive development of homes, stores and offices spanning five blocks has been proposed to Redwood City by Greystar Real Estate.
The project has the address 1601 El Camino Real, and will develop the five blocks between El Camino and the train tracks, where the Redwood Roller Rink used to be.
It will also replace Towne Ford and Hopkins Acura.
The project will consist of five buildings. Four of the buildings will be offices, and they'll total 589,700 square feet. There will be one apartment building with 272 units at the corner of El Camino and Maple Street.
The project also consists of 10,000 square feet of retail and a 10,000-square-foot child care center near the corner of El Camino and Cedar Street. Information available yesterday didn't give the height of the buildings.
The project map also shows that Greystar may re-do Beech Street, expanding sidewalks and curving it so that it meanders around trees. There will be four parking garages, all located under the four office buildings.
A community garden is slated for the corner of Lathrop and Maple streets.
Greystar is an international, privately-owned company, based in Charleston, S.C., and according to Fortune is the largest operator of apartment complexes in the country with over 400,000 apartments.
The 1601 El Camino project marks the developer's fifth project in downtown Redwood City. The others are:
• 299 Franklin St., approved in 2012, six stories tall, with 305 apartments
• 103 Wilson St., approved in 2014, seven stories tall, with 175 apartments
• 1305 El Camino, approved in 2015, eight stories tall, with 137 apartments; and
• 1409 El Camino, approved in 2017, eight stories tall, with 350 apartments and 2,900-square-feet of retail space.
The project will replace Hopkins Acura, Towne Ford, Town Auto Body, Main Street Self Serve Car Wash, the former Roller Rink building, and multiple businesses located at Elm and Main streets, including the restaurant that shares the streets' names.
There are no scheduled meetings for the development just yet, according to the city's webpage devoted to this project.