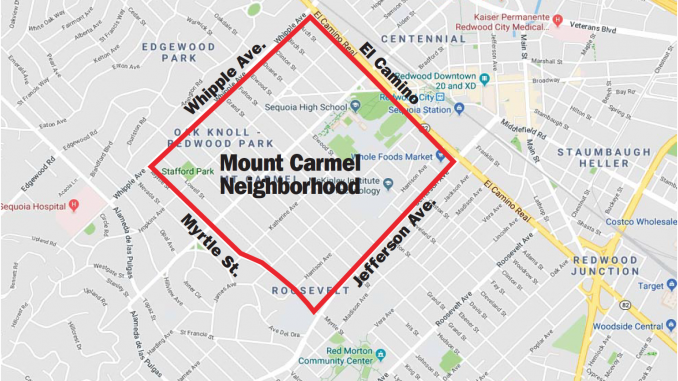 BY EMILY MIBACH
Daily Post Staff Writer
Residents in Redwood City's Mount Carmel area — which covers a wide swath of the city — are asking City Council to protect the character of their neighborhood after eight single-family homes have been demolished to make way for newer homes.
"The bottom line is the citizens are busy and are looking to you as their first line of defense," former Mayor Jeff Ira told council on Monday (July 23). Ira asked council come up with simple standards for new homes that preserve neighborhood character.
The Mount Carmel neighborhood — a 464-acre area bounded by El Camino Real, Myrtle Street, Whipple Avenue and Jefferson Avenue — has homes that were built throughout Redwood City's 150 years of existence, and has a range of architectural styles.
Historic district proposed
Because of the charm that the neighborhood has, residents want to see the neighborhood, or at least part of the neighborhood, become a historical district where properties could be be protected from "teardowns" — when a developer buys a home, tears it down, rebuilds the home so it covers more of the lot, and sells it for double the purchasing price.
While over 30 residents, chiefly from the Mount Carmel neighborhood, spoke at Monday night's meeting largely in favor of the historical district, most of the speakers also asked the council to have guidelines to protect neighborhoods.
"Redwood City is an orchard ripe for the picking with low hanging fruit, cost of business in Palo Alto and Menlo Park is so great that our hidden gem has been discovered by developers," said Mount Carmel resident Kris Johnson. "We have no protections and are slow to react."
Other cities have dealt with this
Johnson held up Burlingame's single-family home protections as an example of what the city could impose. About a decade ago, Burlingame formed a task force and created design guidelines for the entire city.
Later in the meeting, Councilman Jeff Gee suggested that the city's planning department look at San Carlos' guidelines. They limit how much space a house can take up on a lot, something called a floor area ratio or FAR. Their rules also restrict houses on certain slopes, which can be an issue in the hills. And the proposal must be reviewed by the planning department to see if it would fit in with the neighborhood.
Council requested that Assistant City Manager Aaron Aknin and his team come back with an estimate of how much time and money it would take to survey whether Mount Carmel could become a historic district, and to hold a study session on the topic of city-wide protections for single-family homes.