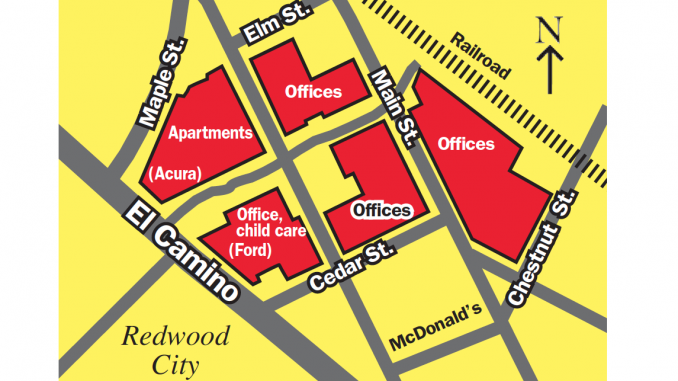 BY EMILY MIBACH
Daily Post Staff Writer
A new project proposed to take up five blocks along Main Street and El Camino in Redwood City would result in substantially more jobs than homes, worsening San Mateo County's housing-jobs imbalance.
The 1601 El Camino Real project will consume five blocks that include Acura and Ford dealerships between El Camino and the train tracks. It would also replace the Redwood Roller Rink.
Greystar Real Estate wants to build four office buildings totaling 589,700 square feet. Another building at the corner of El Camino and Maple Street will have 272 apartments.
Housing-jobs imbalance
Based on the assumption of one worker for every 200 square feet of office space, the development would accommodate 2,948 employees. And assuming an average of two people would live in each of the 272 apartments, 544 people would be living in the project. The number of people housed by the project would represent 18% of the jobs the development would bring.
"I'm hard pressed to believe this neighborhood can support 3,000 office workers getting in and out of there every day," said Kris Johnson, who last year appealed another Greystar development at 1409 El Camino. "This contribution to our jobs-housing imbalance will only accelerate the gentrification and displacement in our community. It's embarrassing."
A committee appointed by the San Mateo County Board of Supervisors to study the housing crisis said in a 2016 report that since 2010, the county has added 54,000 new jobs but only added 2,148 housing units during that time.
Mayor Ian Bain said that when he meets with developers, he makes his concerns and expectations of them "very clear," and pushes on them to include low-income homes and mitigate traffic.
Public scrutiny
"The larger the proposed project, the more public scrutiny it should undergo, and the more public benefits it should provide. We must always consider how any project will impact the balance between housing and jobs," Bain said in an email.
Greystar is an international, privately-owned company, based in Charleston, S.C., and according to Fortune is the largest operator of apartment complexes in the country with over 400,000 apartments.
Since first coming to Redwood City in 2012, it has proposed four other apartment buildings, adding 967 apartments, 35 of them were reserved for low-income earners.
In this project, Greystar will have a total of 60 low-income apartments, since project plans say the development company has purchased the 23 low-income apartments at 1306 Main St., and will also add 37 more low-income apartments.
The apartment building is proposed to be 81 feet tall, according to project plans.
Building heights
The three office buildings that will be along Main Street will be 40 to 47 feet tall, and the office building at the corner of El Camino and Cedar street, which will also have 10,000-square-feet of child care space, will be 61 feet tall.
Troy Vernon of Greystar, who is noted as Greystar's contact on the city's webpage for the project, did not return calls to the Post on Thursday or Friday.