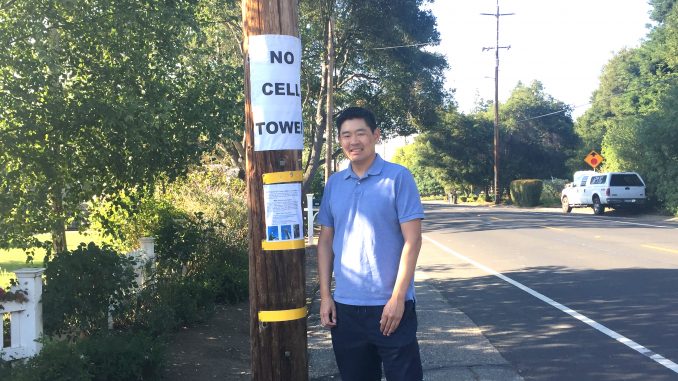 BY EMILY MIBACH
Daily Post Staff Writer
A Los Altos man said Monday (July 8) he was shocked to get a letter from AT&T telling him that the company planned to put a small antenna on a utility pole 10 feet from his daughter's bedroom window.
"I'm not an extreme guy. I'm a venture capitalist who invests in tech. I just think we need to be smart, safe and sensible in where we put these," said Casey Lai.
Lai said the small antenna device called a "node" is unattractive, makes noise and may have unknown health effects, possibly cancer.
AT&T wants to install 11 of them in Los Altos to improve reception for its smartphone customers.
Lai said he thinks there are better places for nodes than residential neighborhoods, such as Loyola Corners or along El Camino Real.
Lai talked to his neighbors and to City Council members to see what they knew about the cell nodes. He discovered that most people didn't know about nodes. Questions by Lai and other residents about the nodes prompted council to call a study session on the topic that was held Tuesday.
The study session examined how far the city can go in regulating the nodes, said City Manager Chris Jordan. And that's exactly what Lai wanted to find out.
The Federal Telecommunications Act of 1996 stops local governments from prohibiting, either directly or indirectly, the provision of wireless services.
In September, the Federal Communications Commission furthered its regulations on local governments, saying that local governments can't stop telecommunication companies from adding capacity to current nodes, stopping companies from installing 5G networks or improving service.
In addition, state and local governments cannot regulate wireless facilities based on concerns about radio frequency radiation they emit, as long as the emissions comply with FCC guidelines.
Some cities, such as Palo Alto, have passed some regulations limiting where nodes can go. Last month, Palo Alto's council decided the nodes cannot be closer than 300 feet to schools. But some residents argued that the nodes should be at least 1,500 feet from schools and that they shouldn't be placed in residential areas at all, similar to what Lai wants in Los Altos.
The issue has resulted in some boisterous Palo Alto City Council meetings last year, where some residents flipped off the council and another resident stood with his back to the council. Then-Mayor Liz Kniss had to call for a 10-minute break because of repeated yelling from angry residents, some of whom called out "not fair" when she asked the room how many of them owned cellphones.