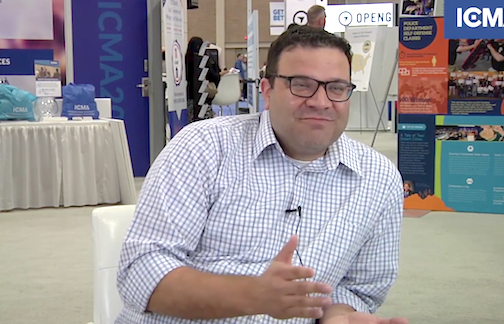 BY EMILY MIBACH
Daily Post Staff Writer
Los Altos City Council has offered the city manager's job to Gabriel Engeland, who has held the same post in the Los Angeles County city of Sierra Madre.
If council approves an employment contract with Engeland at its June 22 meeting, he would hold the same position as Chris Jordan, who was fired last year. In the meantime, Brad Kiliger has been serving as interim manager.
Jordan was paid $183,821 to leave his $245,095 a year job on Nov. 24.
Engeland will be paid the same $245,095 annual salary, according to his proposed contract.
Engeland will also receive a $350 per month car allowance, be provided a cell phone for work, a $15,000 moving reimbursement and either $2,500 monthly to help him rent or lease a home in Los Altos or the city will help him purchase a home in town for an unidentified amount.
Engeland comes to Los Altos from Sierra Madre, which has a population of 10,932. Los Altos' population is 30,504.
Engeland has been city manager there since 2017. Before that, he was city manager for in the southern Colorado town of Trinidad. He also worked for the town of Gilbert, Ariz., in a variety of positions.
During his time at Trinidad, he created the city's Economic Development Department, which worked to reduce vacancies downtown. According to his resignation letter published in the Trinidad Chronicle-News, Engeland also reduced the city's budget while increasing its reserves.
Engeland told the Pasadena Star News in 2017 he planned on fixing Sierra Madre's water infrastructure and cutting some of the town's expenses.
Engeland has a Master's in public administration from the University of Kansas and a Master's of Science in human resources development from Louisiana State University.
If the council approves Engeland's contract next week, his contract will span for three years unless ended or extended by the council.
Engeland's predecessor, Jordan, left the city after a series of controversies.
Controversies include Jordan's employees obstructing an attempt by Ted and Jerry Sorensen from putting up a mixed-use building at 40 Main St. Santa Clara County. Superior Court Judge Helen Williams was so appalled by the city's "bad faith" she issued a blistering decision that cited several law violations by Jordan's employees.
Also, Jordan openly defied council members who voted 4-1 to move council meetings from the Los Altos Youth Center back to the council chambers.
And last October, Jordan showed council members proposals for a new Emergency Operations Center and asked them to pick a design. But he refused to tell them how much each proposal would cost, something that appeared to anger even his supporters on council.