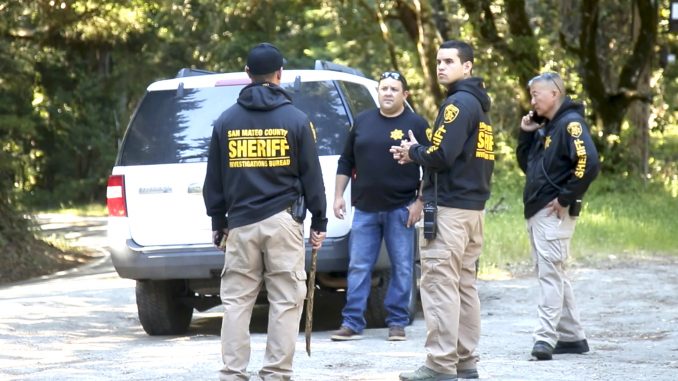 BY EMILY MIBACH
Daily Post Staff Writer
The man accused of the stabbing murders of two men on Skyline Boulevard, who may have mental issues, wants to serve as his own lawyer, a prosecutor said.
Malik Dosouqi, 26, of Pacifica, appeared in court Monday (July 8) with his attorney George Borges of San Francisco. In court, Dosouqi pleaded innocent to two charges of murder, and filed a motion to represent himself, said Assistant District Attorney Sean Gallagher.
Dosouqi will appear in court on July 17 on the motion to represent himself. At that hearing, the judge will have three options: rule that Dosouqi needs to keep his attorney, that he can be his own attorney, or that Dosouqi can serve as his own attorney, but will have an attorney appointed to help him with the case.
Mental health
District Attorney Steve Wagstaffe has previously said that Dosouqi's mental health will be an issue in the case.
Court records show that Mills-Peninsula Hospital, Stanford Health and the county's correctional health services have been subpoenaed.
But so far, Dosouqi's mental competency has not been called into question by his attorney, Gallagher said.
The Dosouqi case unfolded on the evening of June 17 when deputies found 32-year-old Pacifica resident Abdulmalek Nasher's body on the west side of Skyline Boulevard, north of Reids Roost Road.
When deputies returned the next evening to look for evidence, they heard somebody calling for help and found tow truck driver John Sione Pekipaki, 31, of East Palo Alto, lying on the ground with stab wounds in a turnout off Skyline Boulevard. Pekipaki later died.
Around the same time, deputies saw a man in a BMW driving toward them. Deputies fired at the oncoming BMW. The car drove off the roadway and into a ditch. Behind the wheel was Dosouqi, who was taken to a hospital and later arrested.
Dosouqi is in jail and is not eligible for bail.