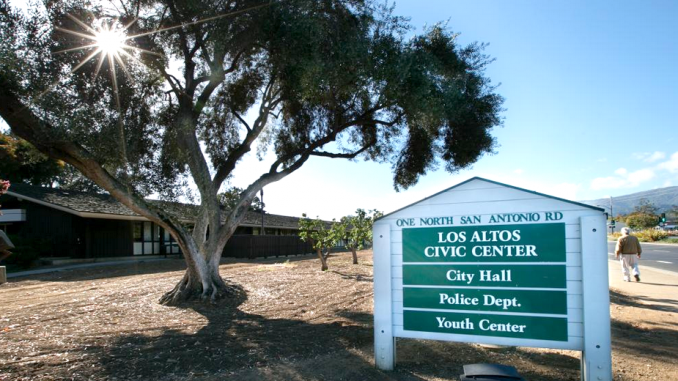 BY ALLISON LEVITSKY
Daily Post Staff Writer
A man has filed a lawsuit against the city of Los Altos, alleging retaliation by three employees over a home renovation permitting dispute, with one city building inspector telling him to "go back to India."
Satish Ramachandran, 55, filed the suit in U.S. District Court on Feb. 25. He is being represented by Oakland-based attorney Fulvio Cajina.
Ramachandran claims that Senior Building Inspector Greg Anderson made several discriminatory remarks to him in 2013, asking him why he lived in Los Altos, "as if immigrants did not belong there," according to the suit.
The plaintiff bought his house at 889 Santa Rita Ave. in 1993, seven years after emigrating to the U.S. from India. His lawsuit states that he still speaks with a thick accent.
Ramachandran says he started interacting with employees from the Community Development Department to do some home renovations in 2013.
He spoke with then-Planning Services Manager David Kornfield and Building Official Kirk Ballard about whether he needed to obtain a building permit to tear down and rebuild a new patio.
Both told him that he would not need one, so Ramachandran said he went ahead and hired a contractor to do the work.
Kornfield no longer works for the city.
Later, Kornfield and Ballard allegedly contradicted what they had previously told Ramachandran and said that he needed a permit for the project.
Ramachandran met with both men several times "to remind them" that they had told him that he didn't need a permit.
"Ramachandran's conduct, which was perfectly reasonable and lawful, upset Kornfield and Ballard. Kornfield and Ballard, who are white Caucasians, became belligerent and hostile with Ramachandran," the suit claims.
The plaintiff then raised concerns about Ballard and Kornfield's "inconsistent and arbitrary decision-making in connection with permitting in Los Altos," the suit reads.
The Community Development Department then sent Anderson to speak with Ramachandran about the permit, but Anderson allegedly got angry when Ramachandran told him that the work he had done on his patio didn't require a permit.
Anderson, who is white, then made the inflammatory statements, according to the suit.
Ramachandran said he filed a formal complaint with the city about Anderson's behavior, highlighting his alleged discriminatory comments, but he claims the city never contacted him.
Los Altos City Attorney Christopher Diaz, City Manager Chris Jordan and City Clerk Jon Maginot did not return a request for comment. Neither did Anderson, Ballard or Kornfield.
For the rest of 2013 and 2014, Anderson, Ballard and Kornfield allegedly "began targeting and retaliating against" Ramachandran, making his project permitting process "as onerous as possible."
Ballard refused to accept the plaintiff's plans when he submitted them, according to the suit.
Ramachandran finished the project in late 2014 or early 2015, but he would have later run-ins with the department.
In 2016, Ramachandran took issue with his neighbors, identified in the suit as the Jacobs, when they sought to make additions to a storage shed on the joint fence and property line between their houses.
The Jacobs, who are also white, "began to argue that their property extended into Ramachandran's property," according to the suit.
Ramachandran said he contacted the city several times expecting the project to be shut down because under the city building code, non-dwelling structures like storage sheds on properties smaller than 15,000 square feet can't be turned into dwelling structures where non-dwelling structures didn't have a 5-foot setback from the property line.
He said that once Kornfield "became involved" in the project, he took action "with the intent to harm Ramachandran" by approving the project and certified that the fence and joint property line should be moved to increase the size of the Jacobs' property, shrinking Ramachandran's lot.
"Kornfield's actions were done in retaliation and with the intent to harm Ramachandran, who had previously complained about discriminatory behavior at the hands of Community Development Department staff," the suit claims.
Ballard made $181,313.24 in salary and benefits in 2016. Kornfield made $181,267.44 and Anderson made $132,543.43.