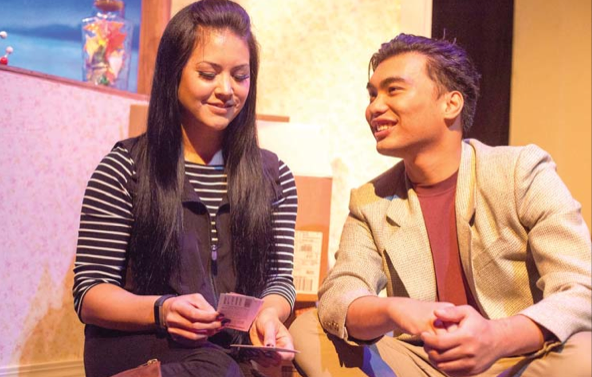 THEATER REVIEW
BY JOHN ANGELL GRANT
Daily Post Theater Critic
"Cowboy versus Samurai?" Does that mean a play about John Wayne and Toshiro Mifune? No. Instead, "Cowboy versus Samurai" recounts the story of the only three Asian people who live in a small Wyoming town, and their white, gym-teacher friend.
The 2005 work by Michael Golamco, who is of Filipino and Chinese American descent, and who grew up in San Mateo, is produced around the country. A well-directed production of the show, with strong performances, opened over the weekend (March 17-18, 2018) at Pear Theater in Mountain View. "Cowboy versus Samurai" is a surreal romantic story, told within the complex matrix of conflicted American racial identity.
Cleverly written, it weaves in and out of the world of imagination, and the world of reality — merging and mixing the two. In part, it is based on Edmond Rostand's "Cyrano de Bergerac."
Playwright Golamco, who now works as a television writer, tells his story in a series of short scenes. At the top, the only two members of the Breakneck, Wyoming, Asian American Alliance convene for their local meeting. One of them (Chuck Lacson) rants about his efforts to get the town grocer to stock tofu. This is meant to be funny, and it is — the man is possessed.
As someone who was adopted as an infant, he complains that he doesn't know what kind of Asian he is, seeing himself in this small town as "an island of yellow in a sea of white."
It's an over-the-top, amusing performance. Defending the provincialism of the small town, the other guy (Lorenz Angelo Gonzales) — a high school English teacher in flight from Los Angeles — says he enjoys this tiny town with its two-lane bowling alley connected to an Episcopalian Church, although on his initial arrival, he was told, "Hey Jap, go back to China."
Their white friend (Drew Reitz) serves early on as the play's narrator, before stepping into the action. Soon into town comes an attractive new Asian high school biology teacher (Heather Mae Steffen), who collects unscratched lottery tickets, and says she dates only white guys — to the dismay of the two Asian males. All three men have a crush on her.
There are some #MeToo sexuality issues, which she handles well. The play does have a touch of misogyny.
As things unfold, Leland Stanford's golden spike even makes an appearance, in reference to the Chinese contribution to building the American railroad.
"Cowboy versus Samurai" is about the deep character of embedded racism. It digs around in that uncomfortable area, to the embarrassment of its audience; but wraps it in farcical comedy, so that it is watchable.
Moving at a brisk pace, the Mountain View production is tightly directed by the talented Jeffrey Lo. Sometimes the performances seem cartoony, be- cause of their quick clip. But then the silent pauses arrive, get honored, and radiate blasts of emotional power.
As one of the play's characters says: to stand out in the world is to invite danger. To which the nutty guy responds, but where's the tofu?
It's a powerful play.
"Cowboy versus Samurai?" continues through April 8, 2018. For tickets and information visit thepear.org or call (650) 254-1148.
John Angell Grant is the Daily Post's theater critic. Email him at johnangellgrant@gmail.com.