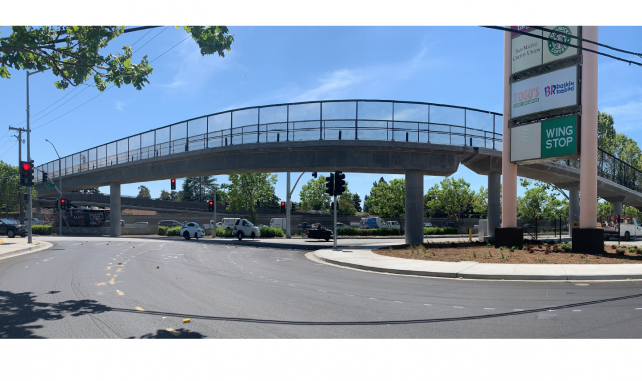 By the Daily Post staff
Less than a month after a new pedestrian bridge over Highway 101 opened in East Palo Alto, police report that two pedestrians have been was robbed by six or seven teenagers in two separate incidents. One of the pedestrians was hospitalized.
The first one was on Thursday (June 13) at 8 p.m. when the male victim was approached by one of the teens who demanded his backpack and cellphone, according to East Palo Alto police. The victim suffered what police said were moderate injuries and was taken to a hospital for treatment.
The second robbery was at 9:29 the same night when a pedestrian was approached by a group of teens.
"The suspects surrounded him and asked what was in his pockets," police said in a statement.
The victim pulled out a pocket knife to protect himself, and the suspects grabbed bricks that were nearby and started throwing them at the victim, police said.
All of the teens fled west over the bridge.
Police checked homes and businesses nearby for surveillance camera footage but were unsuccessful in finding anything.
Police said they will continue to monitor the bridge.
Anybody with information about the incidents is asked to send an anonymous email to [email protected], or send an anonymous text or voicemail to (650) 409-6792.
Only a fraction of the local news stories covered by the Daily Post appear on this website. To get all the local news, including many stories you can't find online, pick up the Post every morning at 1,000 Mid-Peninsula locations.