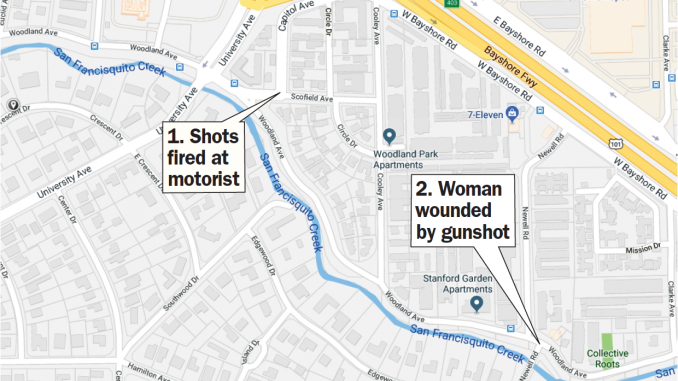 By the Daily Post staff
A man who fired shots at two people in East Palo Alto yesterday (March 26), hitting one of them in the elbow, was later arrested in downtown Palo Alto, police said.
At 5:55 p.m., a motorist who was sitting in traffic at Scofield Street near Capitol Avenue on his way to a second job was fired upon by the suspect in a silver SUV, according to East Palo Alto police Cmdr. Jeff Liu. When the gunman fled, the motorist started chasing him.
A few minutes later at Newell Road and Woodland Avenue, the gunman fired twice at an elderly woman who was walking home with groceries she had just bought at 7-Eleven. He hit her in the elbow. Liu said she is expected to recover. The motorist who was chasing the gunman stopped to render aid to the woman.
Palo Alto police located the man in the parking lot behind Wahlburgers at 185 University Ave. and arrested him across Emerson Street.
Police aren't releasing the suspect's identity except to say he's a 30-year-old East Palo Alto resident.