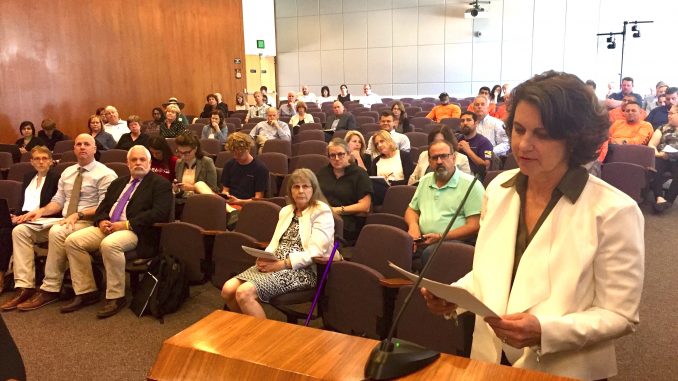 BY ALLISON LEVITSKY
Daily Post Staff Writer
A proposal from Stanford that it claims fully satisfies its housing obligation was shot down by Santa Clara County Planning Department officials Thursday (June 13).
The university wants to count 865 apartments it is already building toward the 2,172 housing units that the Planning Department is proposing to require to mitigate the jobs created by Stanford's 3.5 million-square-foot expansion.
At a county Planning Commission meeting Thursday, county Project Manager Geoff Bradley said that Stanford's offer amounts to 40% less than the "documented demand" that the expansion will create. The expansion will add more than 9,000 new students and employees to campus.
The university is proposing to build 692 affordable units, which is 39% less than the 1,131 units the Planning Department is proposing to require.
On Tuesday, the university asked the county to grant half-credit — 650 units — for the 1,300 graduate student apartments it is building at Escondido Village, and full credit for the 215 units it is building at Middle Plaza on El Camino Real in Menlo Park.
But, Bradley said, Escondido Village is student housing, not the employee-oriented housing that the university needs to overcome the impact of the expansion.
Which expansion?
And both Escondido and Middle Plaza address housing demand created by the university's last expansion, which began in 2000. The new housing the county wants to require of Stanford would be for future demand from the new development.
Stanford officials dispute that assessment, and claim the Escondido homes will open up employee-oriented housing in surrounding cities when grad students who have been living in those cities move to Escondido.
The university's associate vice chancellor, Catherine Palter, told commissioners yesterday that Stanford was developing its application to build housing at Escondido while preparing its current expansion proposal in 2016.
Palter said university officials considered adding the Escondido housing to the current expansion proposal, but decided to "expedite" it so that the new apartments would open "as quickly as we can."
Stanford feels singled out
Palter said Stanford was being singled out among other employers, "even though we are arguably the most progressive provider of housing in the county."
Stanford continues to urge the county to reopen negotiations for a development agreement, a deal that county officials and the university would work out to provide public benefits in exchange for approval of a project.
Planning Commissioners Aaron Resendez, Marc Rauser and Erin Gil expressed support for a development agreement. Deputy County Executive Sylvia Gallegos said the county won't consider a development agreement unless it is advantageous to the county.
Only a fraction of the local news stories covered by the Daily Post appear on this website. To get all the local news, including many stories you can't find online, pick up the Post every morning at 1,000 Mid-Peninsula locations.