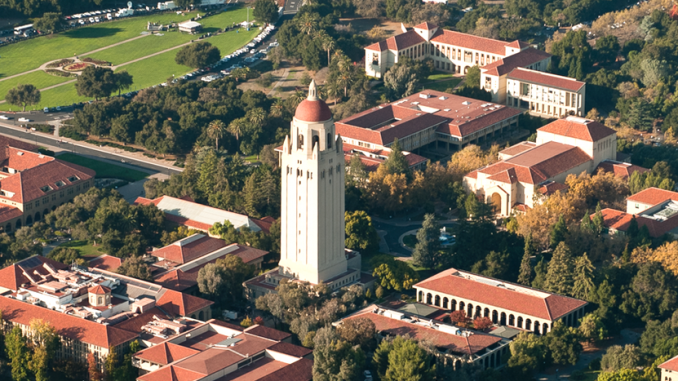 This story was originally published in the Post on May 23.
Editor's note: The Santa Clara County Planning Commission will be meeting tonight (May 30) at Palo Alto City Hall to hear from the public about Stanford's expansion plan. Specifically, the county Planning Department will present proposed "conditions of approval," which are requirements the university must meet in order to expand. The meeting starts at 6 p.m. Here's the agenda.
BY ALLISON LEVITSKY
Daily Post Staff Writer
Santa Clara County planners want to require Stanford to build between 4,772 and 5,699 housing units and student beds, up to 80% more than the university is offering, as part of its request to expand by 3.5 million square feet over the next 40 years.
The county yesterday released its proposed conditions of approval, a set of requirements for the university to meet if it wants to expand.
The conditions of approval will be discussed at upcoming Planning Commission and Board of Supervisors hearings and will have to be approved by the board of supervisors.
Stanford has objected to being subject to the conditions and asked to instead to negotiate a development agreement behind closed doors. A development agreement is a deal between a developer and a land use authority in which the developer offers public benefits, such as funding for schools or affordable housing, in exchange for permission to expand.
Board of Supervisors President Joe Simitian and Vice President Cindy Chavez have told Stanford that they'll only consider a development agreement if it is negotiated in public, which Stanford has declined to do.
The 125-page document outlining the county's proposed conditions of approval addresses the pace at which Stanford can develop, housing, transportation, parking, open space, noise, air quality, biological, visual and cultural resources, geology and hydrology and construction management, among other areas.
Phased approvals
The county only wants to permit 25% of the expansion of academic facilities at a time, a condition to which Stanford has objected.
That means that of the 2.3 million square feet of academic space Stanford wants to develop, the university would only get the go-ahead to build 568,750 net square feet after the expansion is approved.
After that, the university would have to come back and seek approval for the next 568,750 square feet.
Each time the next phase of development comes up for approval, Stanford will have to prove that it has been keeping with its promised housing construction.
How the housing stacks up
About half of the housing the county may demand of Stanford will be for campus employees, including faculty. The others will be student beds.
The county is proposing to require Stanford to build between 2,172 and 2,892 housing units for faculty and other employees. Of those, between 1,239 and 1,959 would be priced at market rate, while 933 would be subsidized.
Seventy percent, or between 1,520 and 2,024, of those units would have to go on campus, the county proposes. The other 30% would have to be built within 6 miles of Stanford.
The county may also require Stanford to build between 2,600 and 2,807 student beds on campus. Student housing would be limited to 1.2 million square feet and must include at least 900 graduate student beds, under the proposed conditions.
Stanford has only proposed building 3,150 housing units and student beds, including up to 550 units for employees.
The university would also have the option to pay a fee, rather than build all of the required affordable housing. Stanford could get one "extremely low-income" unit credited for each 5,495 square feet of academic space for which fees are paid and one very low-income, low-income or moderate-income unit for each 3,852 square feet of academic space for which fees are paid.
The county is also proposing to require Stanford to abide by its offer to prevent a traffic increase during rush hours.
If the average annual traffic counts exceed a baseline of 3,439 trips in the morning rush hour or 3,555 trips in the evening rush hour by more than 1%, the county could immediately suspend approval of any new development projects at Stanford.
Public hearing next week
The county Planning Commission will be discussing the expansion at a meeting at Palo Alto City Hall tonight (May 30) starting at 6 p.m.
Only a fraction of the local news stories covered by the Daily Post appear on this website. To get all the local news, including many stories you can't find online, pick up the Post every morning at 1,000 Mid-Peninsula locations.