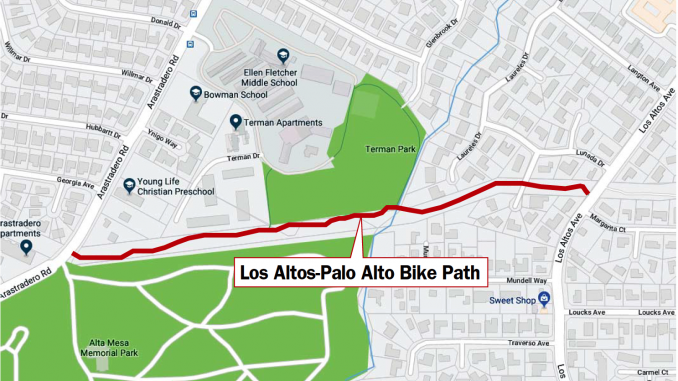 By the Daily Post staff
A runner on the trail behind Terman Park in Palo Alto reports she was slapped on the buttocks by a man who was also running on the path, according to police.
It happened Wednesday (May 29) at 7:45 p.m. on the Los Altos-Palo Alto Bike Path.
The victim, a woman in her 20s, said she was running south toward Los Altos Avenue from Arastradero Road when she saw a man running toward her, according to police. The man ran past her and slapped her with an open palm on her buttocks area. The victim yelled at the man, but he just stared back and kept running.
Police searched the area but were unable to locate the man.
She said he was a white male, in his early 20s, about 6 feet 3 with long brown hair that was pulled back. He was wearing black basketball shorts and a grey shirt with the word "STAFF" written on the back. He was holding a phone and had headphones over his ears.
Police do not think this case is related to any previous sexual battery cases.
Anyone with information can call police at (650) 329-2413 or send an anonymous tip to paloalto@tipnow.org or send a text or voicemail to (650) 383-8984.