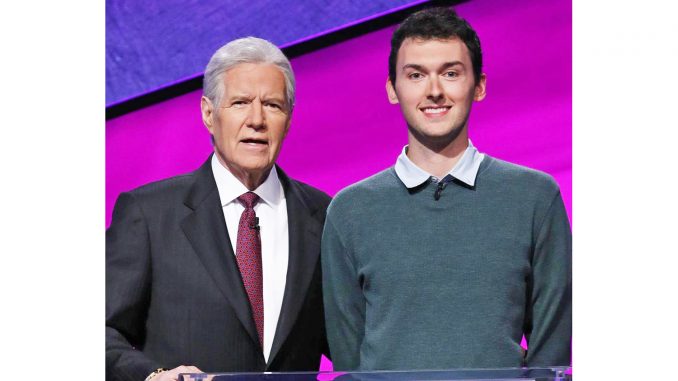 By the Daily Post staff
Palo Alto High School Spanish teacher Trevor Crowell only bet $100 in Final Jeopardy, but still won last night's (Tuesday, May 7) game and will move on to the semifinals in Jeopardy's Teachers Tournament next week. (Video of the show.)
The category for Final Jeopardy was "Teachers," appropriate considering the three contestants were teachers.
At that point, after two rounds of answers and questions, Crowell was well ahead of the other two contestants with $15,600. The other two had $1,000 and $12,400.
Then Alex Trebek read the Final Jeopardy clue: "As a teenager, this woman regained her sight thanks to two surgeries in 1881 and 1882."
The contestant with $1,000 provided the right response — Anne Sullivan. But it didn't matter because that contestant, while betting everything she had, only went to $2,000, not enough to catch the other two contestants.
The next contestant, a middle school teacher from Miami, bet $2,800 of his $12,400, got the question wrong and dropped to $9,600.
Next up was Crowell, the Paly teacher.
He wrote down, "Helen Keller?" That was wrong, though not a bad guess. Anne Sullivan was Helen Keller's teacher.
Fortunately for Crowell, he only bet $100, bringing his winnings down to $15,500 — enough to win the game and advance to the next round.
As the Post reported yesterday in a profile of Crowell, he's been a fan of "Jeopardy!" all of his life. He took an online test to qualify for the show and then auditioned last July in San Francisco. He learned in February that he was chosen as one of the 15 contestants in this year's teachers tournament.
Last night's episode was taped on Stage 10 at Sony Pictures Studios in Culver City in early April.
After a show is taped, contestants aren't allowed to tell people if they've won or lost until the episode airs. So when the Post interviewed Crowell on Friday, he didn't say whether he won or lost, keeping everyone in suspense until last night.
Did you know that only some of the local news stories the Daily Post covers appear on this website? To get all the local news, including many stories you can't find online, pick up the Post every morning at 1,000 Mid-Peninsula locations.