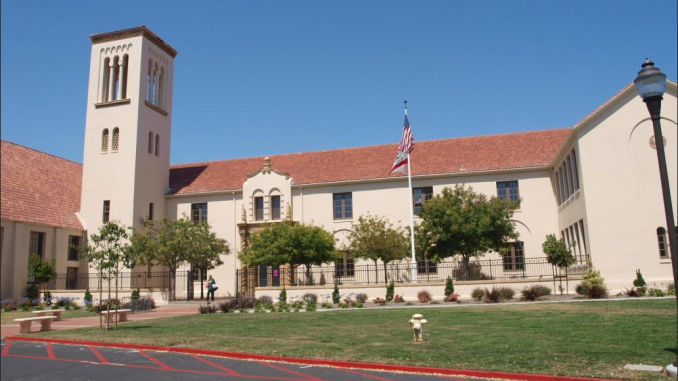 BY SARA TABIN
Daily Post Staff Writer
The editors of a Palo Alto High School student publication say a teacher and assistant principal tried to block reporters from covering a police chase through the high school.
Three Verde Magazine staff members covered a Nov. 4 incident in which a Palo Alto police officer was injured while chasing a robbery suspect through Paly's campus.
The students, who were in their journalism class at the time of the chase, waited until Paly Principal Adam Paulson made an all-clear announcement before going to take photos of the officer being treated by paramedics, according to a Verde editorial published on Nov. 26. The reporters, who were wearing press badges, stayed behind the barriers that campus security had put up, according to the editorial.
Members of campus security, a teacher and an assistant principal told the students to stop and return to class. One of the adults put a hand over a student's camera to try to stop the student, according to the editorial.
The editorial noted that, under California Education Code 48907, student journalists have the right to report without interference as long as they aren't publishing libel or threatening school operations.
The students consulted a lawyer at the Student Press Law Center, Mike Hiestand, who told them the reporting wasn't putting anyone in danger because the reporters waited for the all-clear before leaving class.
The editorial says Principal Paulson met with journalism teachers following the incident and will draft a memo for teachers about the rights of student journalists.
Paulson did not respond to requests for comment Friday afternoon.
Emma Donelly-Higgins, one of Verde's three editors-in-chief and one of the reporters involved in the debacle, said she wants to make sure other student journalists know they can stand up for their rights.
Donelly-Higgins said she has never had any problems with the administration before and was disappointed with how school staff reacted. She also said she understands that the situation was stressful and appreciates the follow-up steps Paulson is taking.
Alex Feng, another editor-in-chief, said he wants the editorial to serve as a reminder to Verde reporters and other student journalists to stay vigilant in reporting and confident in getting the job done.
Paul Kandell, the faculty advisor for Verde, said some of the most powerful photos journalists have taken were captured under circumstances where the journalists were unwelcome. He pointed to coverage of the Civil Rights Movement and the Tank Man photo from Tiananmen Square.
"The curriculum that we offer in Paly journalism is not one of unquestioning obedience, it's of questioning and prodding and not blindly following," he said.