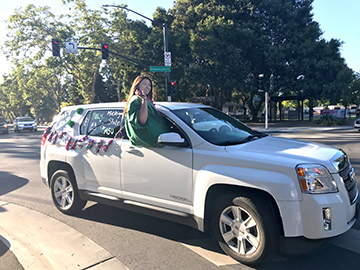 By the Daily Post staff
All four Palo Alto high schools will participate in a city-wide car parade on Tuesday (June 1) between 5:30 and 6:30 p.m. to celebrate graduation.
Students may decorate their cars, wear their caps and gowns and show off their school spirit as they celebrate with the Palo Alto community.
The route runs in clockwise fashion, with all right turns with the one exception being the left turn onto El Camino from Stanford Avenue. Here you can also find full text driving directions.
Tune into FM 88.7 for graduation-oriented music during the parade.
Graduations
Palo Alto High School's graduation is set for 5:30 p.m. Wednesday (June 2) at the Vikings' football field. Here's more information.
Gunn High School's graduation starts at 5 p.m. Wednesday at the Titans' football field. Here's more information for Gunn families.
Here's more about the Kehillah Jewish High School's graduation, which is scheduled for Sunday, June 6.
Castilleja High School's commencement is scheduled for 4:30 on Saturday, June 6. Here's a link for more information.