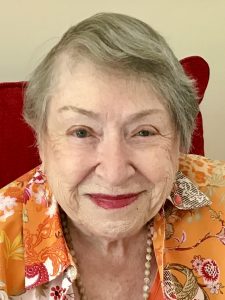 November 1, 1928 – May 20, 2021
Marilyn R. (Gillis, born Cohn) Goldfarb passed in her sleep early in the morning of May 20. Resident of Palo Alto, Marilyn was born Nov. 1, 1928 in Chicago to Harry and Belle Cohn. She is predeceased by her brother Arnold. Marilyn is survived by a loving family: Norman (b. 1953), daughters Miriam and Hannah and mother Melanie, David, (b. 1955), children Audrey and Aidan and wife Eleanor, and daughter Lori, (b. 1959), son Zachary and husband Tom. All three children and most of their families were with Marilyn this last Mother's Day.
Marilyn was born and raised in Chicago and attended John Marshall High School where she was an honors student. Never a sports fan, Marilyn liked telling how she was the sports editor for the school newspaper. The family moved to Los Angeles in 1946. Marilyn attended Los Angeles City College where she was recognized as the Top Science Student in her second year ('48). She then won an academic scholarship to the University of Southern California and graduated Phi Kappa Phi and Magna Cum Laude with a B. S. in Occupational Therapy ('50).
Marilyn met her husband and lifelong partner Eli Goldfarb in March 1950 at a United Jewish Fund event in Los Angeles. They married Jan. 28, 1951 and raised their three children in Los Altos.
Marilyn went back to school, earning her teaching credentials at San Jose State University in 1960, after which she began teaching. Initially a 1st grade teacher, she became a reading specialist and later worked as the curriculum coordinator for the Sunnyvale School District. She starting the first reading lab in the district. Marilyn also served as a consultant to other area districts. Marilyn earned her Master's degree in Administration from San Francisco State University. Her Master's thesis was on the then innovative concept of remedial programs for elementary school students.
Among other volunteer work, Marilyn was Life member of Sequoia Hadassah Chapter, once serving as President, and was a lifelong supporter of Israel.
Marilyn and Eli traveled the world together, meeting and making close lifelong friends along the way. Forever humble, she simply loved people, and was always friendly and considerate. Marilyn loved working with her hands, becoming expert at needlepoint, quilting, sewing, knitting and, as everyone who knows her knows, cooking.