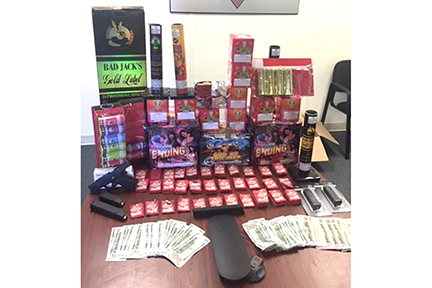 BY EMILY MIBACH
Daily Post Staff Writer
More than 1,500 pounds of fireworks have been seized by a task force made up of the Menlo Park Fire Protection District and the police departments in Menlo Park and East Palo Alto.
The team says its mission is to "strike early at the root of the fireworks epidemic that impacts our area every year."
The fireworks seized already surpasses how much East Palo Alto Police got around Independence Day last year.
EPA police seized about 1,300 pounds last year, sparing residents from hearing 25,164 explosions, police said at the time. Police also arrested eight people in connection with last year's crackdown.
Police did not announce any arrests tied to the most recent seizure. When asked if there were arrests, Menlo Park police spokeswoman Nicole Acker said the results of the task force's investigation will be announced later so as not to compromise the team's work.
Fireworks season started earlier than usual this year, with residents in Menlo Park sending a letter to council two weeks ago about the disruptive noise and explosions.
On May 25, Councilwoman Cecilia Taylor requested the council at its June 8 meeting look at raising the penalties for people who set off fireworks.
All fireworks, including the so-called "safe and sane" fireworks, are illegal in much of San Mateo and Santa Clara counties, including in Menlo Park, East Palo Alto and Palo Alto.
East Palo Alto Councilman Ruben Abrica previously told the Post he was interested in looking at an ordinance that further punishes those who set off fireworks.
These ordinances look like the one approved by the San Mateo County Board of Supervisors earlier this month.
Penalties
The changes to the county's already existing fireworks ordinance make all tickets $1,000, and if fireworks cause serious injury or property damage costing over $1,000, the person who set off the fireworks could be charged with a misdemeanor.
Additionally, a property owner could get hit with a $1,000 fine even if guests set off the fireworks, according to the updated ordinance. The party thrower or homeowner would not be ticketed if the fireworks were set off by a trespasser, or the owner wasn't home or the owner didn't know fireworks were going to be set off, according to the proposal.
Police ask that if you see someone setting off fireworks and can easily tell officers where it's occurring, to call 911. If you are only reporting noise issues, call the department's non-emergency lines.
As for the fire district, which serves Menlo Park, East Palo Alto, Atherton and North Fair Oaks, the department is always willing to pick up fireworks. Fireworks can also be dropped off at fire stations anonymously.