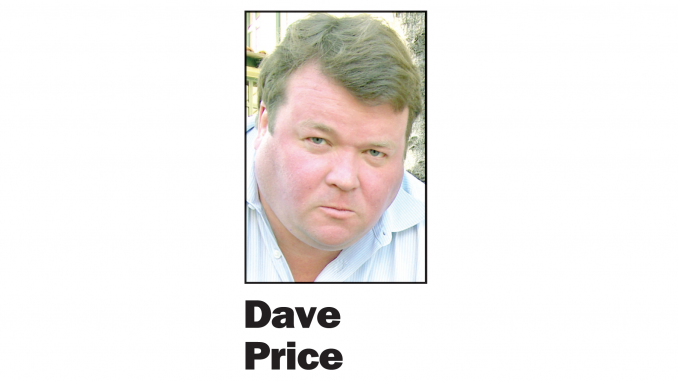 Originally published May 17, 2021 in the Daily Post. If you missed this in print, get in the habit of picking up the Post in the mornings. Only a fraction of our local stories are available online.
OPINION
BY DAVE PRICE
Daily Post Editor
Talk about absurdities. California is losing population, yet state and regional officials are ordering cities to plan for more housing.
Palo Alto is required to zone for an additional 6,000 homes — a 23% increase in its housing stock — in nine years. I guess they figure people are going to turn around and start coming back to the state.
City officials are on the hunt for new places for housing. One place to consider is the Palo Alto Square office complex at Page Mill Road and El Camino Real, featuring two 10-story buildings. Stanford owns the property though it's on a long-term lease to Hudson Properties.
Obviously Stanford would have to agree to any changes to this 333,000-square-foot property built in 1972. But I think the case could be made that this would be ideal for a high-density apartment complex.
There's plenty of land, which would allow for 1,000 or more apartments plus offices. It's close to transit, which is important to city planners these days. There's no neighbors to complain about building heights.
Less rent
The problem is that apartments rent for a lot less per square foot than offices, so Stanford would have to take a hit.
One of these days, Stanford is going to bring back its General Use Permit (GUP) application to expand the campus. And building housing at Palo Alto Square might be a bargaining chip for the university during neogitations with the county over the GUP.
Another Stanford property nobody is talking about is 95 University Ave., where the bus and train stations are located along with the Red Cross and MacArthur Park restaurant. Again, it's close to transit and it's walking distance to downtown. Yet it's far enough away from residential neighborhoods that the sacred 50-foot height limit could be relaxed.
Frankly, we'll never find places for 6,000 new homes unless we relax the 50-foot limit. How about a sliding scale for height limits that would allow only short buildings near residential neighborhoods, and taller buildings the farther you get from single-family homes?
• • •
Menlo Park's city attorney createa an unnecessary mystery
Menlo Park City Council has hired a high-powered Los Angeles law firm to serve as its city attorney, replacing the retiring Bill McClure, and this new firm is already revving up to file its first suit on behalf of the city.
The new law firm is Burke, Williams & Sorensen, which represents cities and government agencies all over the state. It has assigned partner Nira Doherty to serve as Menlo Park's City Attorney.
On Tuesday, Council met behind closed doors to talk about litigation. Such a secret meeting is allowed under the open meetings law known as the Brown Act.
Council emerged from its secret conclave and announced it had voted to sue somebody. But council said the identity of the defendant will be concealed until the suit is filed.
Try to settle this
In my opinion, it makes sense to announce now who the city is planning to sue so that both sides can negotiate a settlement before the lawsuit is filed. That could save the city a lot of money on legal fees.
You never know, but in the weeks before the suit is filed, members of the community might convince the would-be defendant to settle with the city, and solve the problem that the suit would address.
But a law firm that charges between $260 and $305 an hour might be looking at the filing of a lawsuit as a way of raking in some billable hours.
• • •
City examines its cybersecurity
Speaking about closed council sessions, last Monday the Palo Alto City Council had a timely but closed session on cybersecurity. The discussion came the same week that a major oil pipeline serving the South and Northeastern U.S. was shut down in a ransomware attack, allegedly carried out by Russian hackers.
In a ransomware attack, the hackers encrypt a system's data and demand a ransom in bitcoin in order to release the data.
Since Monday's meeting was closed, I've got no official information about what the council members were told. But a few things are obvious.
First, the city of Palo Alto has more to protect than the typical municipality because it also runs utilities providing electric, natural gas, drinking water, sewage, etc.
Second, more than 2,300 government agencies suffered ransomware attacks last year, according to the cybersecurity company Emsisoft.
Even VTA was the target of an attack in April, according to the Mercury News, in which hackers threatened to release confidential information. It's not known if VTA paid any ransom.
Hackers have gone after local businesses too. Palo Alto-based Accellion, a secure file sharing company, was attacked by a cybercrime group that was using ransomware to extort its customers, according to Homeland Security. One of Accellion's customers, the University of California, warned students and employees last month that their personal data might have been stolen. The legendary VC firm Sequoia Capital in Menlo Park disclosed that the email of one of its employees was compromised by hackers. The number of ransomware attacks is probably greater than what makes the papers because the victims are embarrassed to come forward, experts say.
As for the Palo Alto City Council, this is one of those situations where we have to trust that they're making the right decisions. We really don't know what they're doing to ensure cybersecurity because the law allows the city to keep that kind of information confidential. I can see the benefit of such laws — you don't want to tip off the hackers to your plans — but the public, particularly the tech-savvy people in this town, can provide advice to the city if they're told what's going on.
Editor Dave Price's column appears on Mondays. His email address is price@padailypost.com.