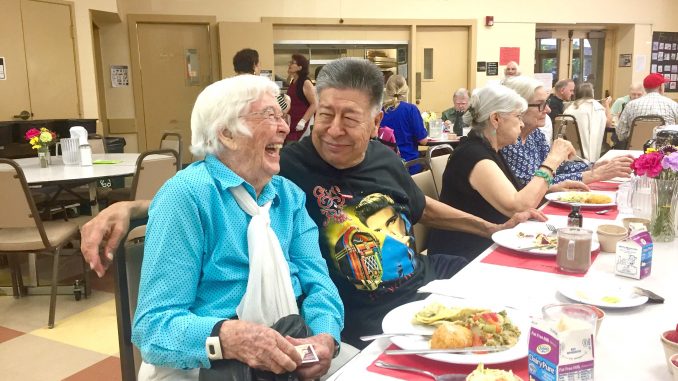 This story was originally printed in the Daily Post on May 19. To get all of the local news first, pick up the Post in the mornings at 1,000 Mid-Peninsula locations.
By the Daily Post staff
The Palo Alto senior meals program La Comida needs a new downtown dining room by the end of the month, said the nonprofit's co-president, Bill Blodgett.
La Comida serves meals to people over 60 at the Stevenson House at 455 E. Charleston Road in south Palo Alto and the Palo Alto Masonic Center downtown at 461 Florence St.
La Comida provides both nutritious meals and an opportunity for seniors, who are sometimes isolated, to socialize with friends.
In October, the Masonic Center told La Comida that they wouldn't be renewing the group's agreement to serve mid-day meals at Florence Street, so La Comida is looking for a new dining room downtown for about 80 people.
Right now, La Comida isn't serving meals in dining rooms because of the pandemic. Instead, La Comida is offering meals on a take-out basis. But the county's guidelines say that 30 days after entering the Yellow tier, which happened today, senior dining rooms can reopen. Blodgett said La Comida will consider reopening dining rooms in 30 days. One possibility would be to offer some meals in dining rooms and others on a take-out basis.
In fact, La Comida on Tuesday (June 1) will move the location for picking up take-out meals to First United Methodist Church at 625 Hamilton Ave., Blodgett said. But finding a downtown dining room has been more elusive. Blodgett took his concerns to City Council on May 17.
He told council he wants to move La Comida back to the Avenidas senior center at 450 Bryant St. so it could return to downtown, though he has been "unsuccessful" with that so far.
La Comida operated at Avenidas for 40 years, but left in 2017 after the senior center remodeled and reduced the size of its dining room. He said other senior centers have lunchtime meal programs, making it easier for seniors to access the programs in those buildings.