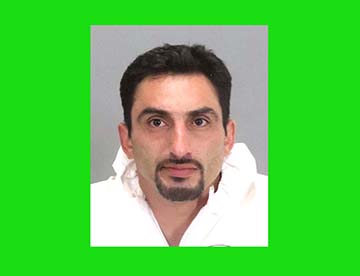 By the Daily Post staff
A suspected bank robber was caught by police after a foot chase through Palo Alto High School yesterday (Nov. 4).
A masked man used a note to rob the Bank of America branch at 395 Quarry Road of an undisclosed amount of cash at 11:56 a.m., police said. He didn't produce a weapon during the hold-up. He fled on a bike to Town & Country Village Shopping Center at El Camino Real and Embarcadero Road.
Then he crossed Embarcadero and was on the Paly campus — while school was in session and students were milling about.
At 12:09 p.m., he was in the Main Quad.
Palo Alto police decided to stay out of the Quad, apparently wishing to avoid a confrontation that might endanger students, and instead contacted school officers. But the robber kept moving, heading next to the bathroom in the library area.
When the robber realized police were closing in, he ran from the library. Police officers and a police dog were in close pursuit.
At 12:16 p.m., police were finally able to arrest the man on the bike path that runs parallel to the railroad tracks near the football field.
Arrested was David Esqueda Jr., 33, of Redwood City, according to police.
Police said they found money from the hold-up in his pocket.
Esqueda was booked at the main jail in San Jose on suspicion of felony robbery, commercial burglary and misdemeanor resisting arrest. He had a warrant out of Palo Alto for driving with a suspended license. He is also on court probation out of San Mateo County for misdemeanor assault on a peace officer.
One officer required medical attention after yesterday's chase. He said he blew out his knee.