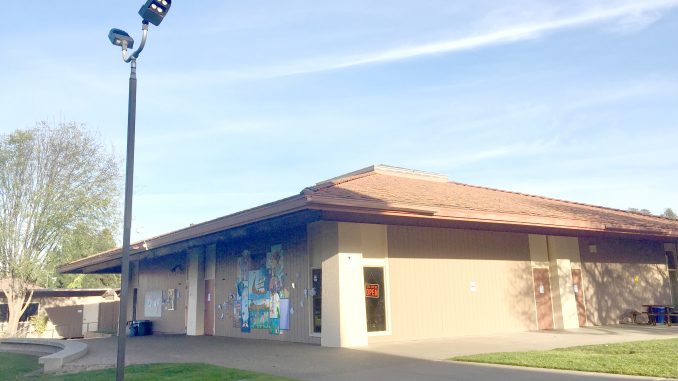 BY ALLISON LEVITSKY
Daily Post Staff Writer
Palo Alto High School administrators have suddenly painted over a mural by one of the school's most famous alumni, actor and filmmaker James Franco, after five women accused him of inappropriate or sexually exploitative behavior.
The mural on the southwest external wall of the student center had depicted a football team and included the 39-year-old actor's signature, two Paly students told the Post.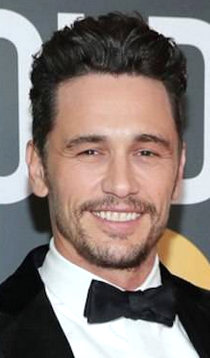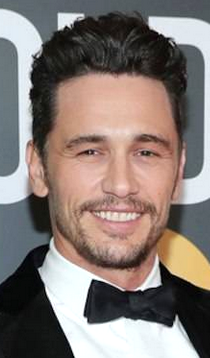 "There are lots of other paintings he made that aren't murals, and those are still up around campus, so I think it's fine if we just cover up this one," Paly junior Nicole Adamson said.
Franco has been under fire since last month, when the Los Angeles Times reported the allegations from four former acting students and a woman who said Franco had mentored her. Franco has taught at acting studios in Hollywood and New York City.
Paly Principal Kim Diorio didn't return multiple requests for comment yesterday (Jan. 31).
Paly sophomore Kimberley Martinez said that whether or not the allegations against Franco were true, the accusations against him were reason enough to paint over his mural.
"If people believe it or not, it still paints, like, a really bad image of Paly, since he represents Paly as the most known actor here," Kimberley told the Post. "It's sad to just see his mural painted, but at the same time I think it was wrong what he did."
The Los Angeles Times reported on Jan. 11 that Franco's former acting student Sarah Tither-Kaplan accused him of removing plastic guards covering actresses' private parts while simulating sex in a nude orgy scene three years ago. On Jan. 7, she had confronted him on Twitter for only paying her $100 a day for performing fully naked in two of his movies.
Actress Violet Paley, who said she had dated Franco, also claimed he had once tried to force her to perform an intimate act on him.
Franco denied the allegations, but skipped the Critics Choice Awards Jan. 11, though he won an award for best actor in a comedy for "The Disaster Artist."
Familiar issue at Paly
Sexual misconduct is a touchy subject at Paly, where a 17-year-old baseball player sexually assaulted a 14-year-old girl in a school bathroom in October 2016. Channel 2 reported in May that the boy had been allowed to remain at the school after being convicted in juvenile court of another sexual assault that took place off campus.
The school district has been investigated multiple times in the last four years by the Office for Civil Rights for its practices around Title IX of the Education Amendments Act of 1972, including its response to sexual misconduct complaints.
In September, the law firm Cozen O'Connor, which the district had hired to investigate its handling of the complaint, condemned Paly administrators' investigation. The lawyers specifically called out missteps by Diorio, assistant principals Jerry Berkson, Victoria Kim and Adam Paulson, Gunn High School Principal Kathie Laurence, former Superintendent Max McGee and former Assistant Superintendent for School Support Services Holly Wade.
Sexual misconduct allegations have also been made against teachers and administrators at Paly.
Former Paly biology teacher Ronnie Farrell, 48, was admitted to the California Substance Abuse Treatment Facility in the Central Valley on May 10. He was sentenced to two years and eight months in state prison last year after pleading no contest to sexually assaulting a 15-year-old student in his classroom.
Inappropriate remarks by former principal
Diorio received so many complaints about former Principal Phil Winston, including instances of sexually inappropriate comments made to and about students, that she tracked them on a spreadsheet for three years while serving as his vice principal. But she never came forward with them out of a fear of retaliation, she said last year.
After the complaints were made public in 2013, Winston stepped down as principal and was reassigned as a special education teacher. The school district attempted to fire him, but he fought the dismissal. In 2015, the district paid Winston to resign.
Kevin Sharp, a former English teacher at Paly, was accused of having a sexual relationship with a student after she graduated in 2014. The student's ex-boyfriend accused Sharp of "grooming" her for a future sexual relationship while she was still in high school. No charges were filed, but the district paid him $150,000 to resign in 2015.
Last month Henry Reed, a part-time music teacher at Paly, was arrested on suspicion of touching a Sunnyvale high school student inappropriately.